Endurance – bookclub
July 12, 2022 @ 12:00 pm

-

1:00 pm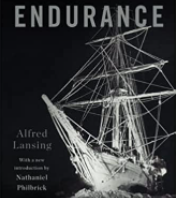 Facilitated by Executive Director Susi Varvayanis
Endurance (by first time book author Alfred Lansing) is a book about the true story of Ernest Shackleton's South Pole adventure/fiasco; an incredible treatise of persistence and positivity despite despair, with great lessons on leadership, teamwork, looking out for each other across differences (economic backgrounds, social status, experience, age, personalities, countries of origin) and learning from failure. We'll also look at the amazing historical images taken by the photographer, Frank Hurley, that were part of an American Museum of Natural History's exhibition. Come be inspired!
Please let us know if you have any accommodations to be able to fully participate. Limited attendance. [LOCATION TBD} July 12 noon-1pm (in-person over lunch). Register now for the Endurance bookclub discussion.
A book will be given to you on attendance.