Courses and Workshops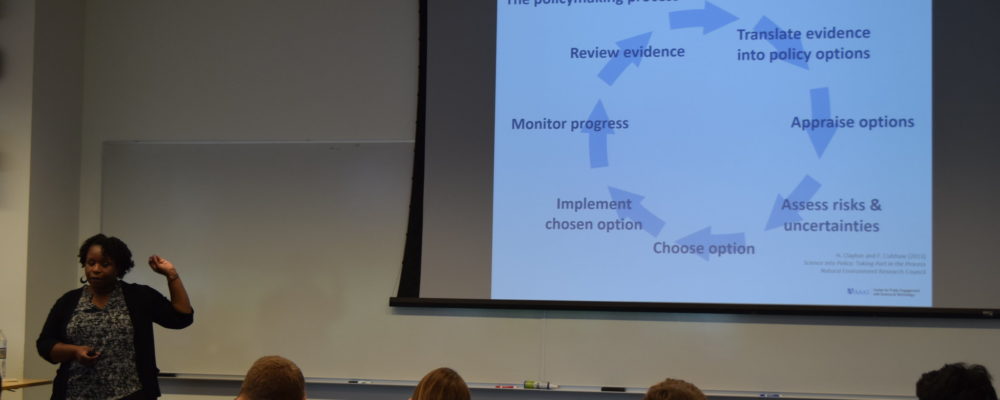 Getting involved can mean testing the waters of a particular career path by gaining the vocabulary and experiencing the simulated environment of the area. Workshops and courses are a relatively low time investment to help make an informed choice and to add to your resume.
Courses That Welcome Ph.D. Students
We assembled a shortlist of participant, alumni, and faculty recommended business, entrepreneurial, policy, and communication courses that specifically welcome Ph.D. students from all disciplines and will help you develop your entrepreneurial mindset. Postdocs may contact the instructor. If you have other suggestions that have been helpful for your career development, let us know and we can add them here.
Business and Management
Policy and Communication
BME 4440 Science Policy Boot Camp: Concept to Conclusion (3 cr. C. Schaffer) An interdisciplinary service-learning course to explore the trends that shape science and innovation policy, understand core science policy concepts, and engage in active policymaking work. Three-hour long sessions every week begin with broadening students' perspective on science policy, then working in groups on a science policy advocacy project that builds over the full semester. Working in small groups, students identify a key science policy issue, thoroughly research the issue and contact key stakeholders, formulate a detailed plan to address the issue, and, unique to this course–implement their plan for solving the problem toward the end of the semester. Examples may include drafting legislation, commenting on federal or state rulemaking procedures, launching public outreach campaigns, or raising press awareness of an issue. This aspect of the course will include both mentored work in developing the idea and advocacy plan, as well as activities to build the skills necessary to be an effective policy advocate. Examples of such activities include mock press interviews and lobbying visits. As a result of the final project, students will have the unique opportunity to address a bona fide policy issue and create a working solution.
COMM 5660 Science Communication Workshop (1 cr. B. Lewenstein) A weekend workshop offered fall and spring that trains researchers in the sciences (including natural sciences, engineering, experimental social sciences, etc.) to communicate effectively with non-scientists such as policymakers, political stakeholders, the media, and the general public. Training activities may include role-play, reading/discussion, writing press releases and other outreach materials, and discussion with invited speakers.
FDSC 4940 (LAW 6237) Federal Regulation of Food and Agriculture (3 cr. G. Jaffe) Genetic engineering, gene editing, cloning, cell-cultured meat, production of novel proteins in microorganisms and plants, conventional products — they're all regulated by federal agencies. This course — offered only in fall 2019 — explores federal regulatory oversight from research and product development to consumer purchases. The course covers laws implemented by FDA, USDA, and EPA. By the end of the course, students will understand how federal oversight may play a role in their future careers and how to prepare for those interactions. They will understand the role of science in regulation and policy and how to actively engage as regulations are developed.
BIOMS 5665 Community Based Research Presentations and Discussions (1 cr. R. Weiss) This seminar series provides a forum for interactions between cancer research students and cancer patients and their care givers. Through this course, students meet and interact with cancer patients and develop skills in communicating science to the public.
ENGRG 3360 Developing STEM Storytelling Skills with WSKG Public Media and PBS NewsHour (3 cr. J. Nucci) If you can't communicate your engineering ideas, then their potential can't be realized. This course tackles the challenge of 21st century science and engineering communication by providing instruction and practice creating innovative presentations and videos, which may ultimately become part of PBS Learning Media, a nationally distributed educational resource.
NTRES 4300 Environmental Policy Processes II (3 cr. B. Lauber-C. Kraft) provides students an intensive field-based exploration of the federal environmental policy process and an overview of how policy issues move onto the federal agenda and through the federal policy-making process. It focuses on defining environmental policy problems and understanding the interrelated set of phases, actors, institutions, and constraints that typically comprise the policy cycle. Case studies provide in-depth examples and allow students to discuss the policy process with policymakers as guest panelists. Research topic requires conducting several independent interviews with Washington experts, preparation of one short and one long policy brief based on the interviews and additional research, and an oral presentation. Note: spring travel to D.C. and an additional course fee of $800 required. Applications are due in mid-October.
PHYS 7679 Finding Your Scientific Voice (3 cr. I. Cohen) This course workshops your 10 minute scientific presentations in a safe and playful environment. You will develop performance practices that enable you to tell a credible and entertaining story in a confident manner. Don't miss this opportunity to hone your research presentation skills from top to bottom.
HADM 3610 Communication for Entrepreneurs (3 cr. A. Quagliata) Communication skills are essential for entrepreneurs. Entrepreneurs face unique communication challenges when communicating with initial investors, business partners, founding employees, first customers, and the media. Students apply course concepts to their own ideas while developing communication competencies in a variety of entrepreneurial communication contexts.
Workshops
Careers Beyond Academia holds regular workshops to help you hone skills needed for your professional future. Explore our calendar of events to see which ones match your availability and interests. We routinely advertise activities from on and off campus and sometimes offer to reimburse for your travel to nearby workshops or participate in industry-specific events. Feel free to contact us to discuss your specific needs. Our weekly listserv communication includes many more opportunities. Please email gradcareers@cornell.edu if you would like to join the listserv.
The Graduate School calendar of events includes additional workshops on balance and resilience, writing support, diversity and inclusion, teaching and mentoring, and other topics to support your overall success.
Upstate NY I-CORP 3.5-week virtual course is for researchers working on a deep tech innovation to "get out of the lab" & talk with customers to ID best product-market fit. You may apply with a team of 1-3 people.