Shadowing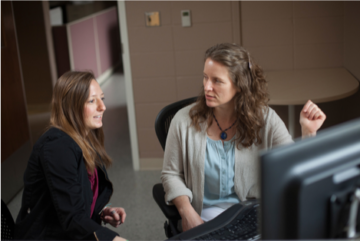 Job shadowing is a type of experiential learning opportunity that involves observing working professionals in their work environments. Through direct observation and immersion in day-to-day activities, students and postdocs may learn important information to help make career decisions.
The benefits to job shadowing are multiple. In addition to exploring a new career and job environment, job shadowing encourages the consideration of non-linear career choices, such as exploring a sales or management position after working in research. Accompanying someone at their workplace provides a better sense of that career path, and also facilitates meaningful connections with others in the workplace whose functions might be adjacent to what you thought you were interested in.
Additionally, shadowing can be done flexibly and spread out over the course of a semester, occasionally taking place as an informal conversation to learn more about the process. A job shadowing experience becomes even more meaningful if a deliverable is part of the experience so that you can try out the skills used. Sometimes, one experience leads to another more involved opportunity, as you can see in the examples below.
Examples
Career in biosafety:
A past opportunity included shadowing an on-campus biosafety officer and learning about a fellowship opportunity. You might even be awarded one!
Career in communication:
Past participants watched and learned how to conduct good interviews, witnessed the editing process, then co-authored a press release with their mentors; then did it again. Others were coached on how to write an article for an alumni magazine (p.8-9).
Career in entrepreneurship:
Students and postdocs have immersed themselves by networking in an entrepreneurial environment then becoming a mentor at Life Changing Labs.
Variations of Shadowing
Perhaps you would simply like to learn more about a particular career and might not have a mentor yet. In this case, contact us to help make those connections that might fit with your interests and goals. Informational interviews are a great way to learn more about a particular job.
Many find a good place to start is to learn a little more through webinars or reading books and articles. Here are a few representative examples: