Acquisitions Fellow for the University Press-for PhD candidates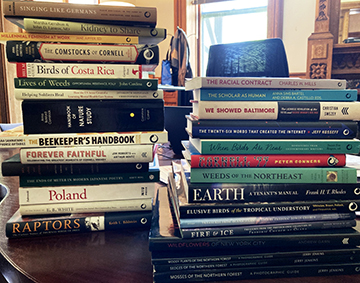 PhD Candidate Acquisitions Fellow
Read more about the partnership between Careers Beyond Academia and Cornell University Press that led to last year's pilot. The partnership was designed to expand horizons of humanities doctoral career possibilities.
2023 deadline extended! One more slot to fill. An opportunity for Cornell doctoral candidates to learn about the world of scholarly publishing through a summer fellowship. We are looking for 16 hours per week from each student which can be condensed into two days. Hourly rate is $20. APPLY HERE VIA YOUR CORNELL NETID
Duties and responsibilities
Prepare manuscripts for submission: formatting text files, confirming permissions for third-party materials, reviewing illustration programs, and updating database entries for transmitted titles.
Write descriptive copy and securing blurbs.
Arrange for peer review: Contacting potential peer reviewers, sending manuscripts, tracking the status of reviews, processing payments requests for honorarium.
Book closings for published books: sending copies of books for peer reviewers, blurbers, series editors, and others; ensuring that all documentation associated with the book publications is final.
Assist editors in drafting grant proposals and subsidy applications.
Undertake research projects for editors with regards to list development, reviews, and sales.
Handle routine correspondence on behalf of editors.
Maintain the Cornell University Press Library located in the building.
Develop a graduate workshop on publishing for their home department or broader subject area, which will increase exposure for the Press on campus and promote the student as an advocate for scholarly publishing.
Knowledge/Experience required
Cornell doctoral candidate in the Humanities, entering years two through five
Strong interests in inter- and transdisciplinary work
A deep interest in scholarly communications and scholarly publishing
Strong written and verbal communication skills
The ability to work independently
Excellent computer skills, especially with the intricacies of Microsoft Office products
Great organizational and project management skills
Applying
Please provide a copy of your CV and a cover letter when applying. You must apply via the Workday portal in order to be considered.
About the University Press
Established in 1869 as the first American university press, shortly after the founding of Cornell, the press embodies and advances the university's core values by disseminating fundamental and practical knowledge, while commanding its own distinct editorial profile. The press, as part of a land-grant institution, is also dedicated to transforming research into publications that reach and benefit the wider public.
Location
Sage House is located just off central campus at 512 East State Street. This is a hybrid opportunity but the remote portion must be done within the continental United States of America, Alaska or Hawaii.
Position details
Title of Position: Student Admin Asst IV
Job Requisition ID: WDR-00036418
Start Date: 05/22/2023
End Date: 08/18/2023
Scheduled Weekly Hours: 16
Manager: Mahinder S. Kingra
Contact Name: Jose Delgado
Number of Openings: 2
Compensation: $16.20 – $23.95
Pay Rate Type: Hourly
Federal Work Study Eligible: No
Remote Option Availability: Hybrid Remote
EEO Statement:
Diversity and Inclusion are a part of Cornell University's heritage. We are a recognized employer and educator valuing AA/EEO, Protected Veterans, and Individuals with Disabilities. We also recognize a lawful preference in employment practices for Native Americans living on or near Indian reservations.
Cornell University embraces diversity and seeks candidates who will contribute to a climate that supports students, faculty, and staff of all identities and backgrounds. We strongly encourage individuals from underrepresented and/or marginalized identities to apply.
Cornell Student Wage and Classification Scale:
To learn more about positions and pay please see the Student Employment wages and classifications page. The final rate of pay will be determined by prior relevant work or industry experience and unique applicable skills.
Employment Assistance:
For general questions about the position or the application process, please contact the Recruiter listed in the job posting or email mycareer@cornell.edu.
If you require an accommodation for a disability in order to complete an employment application or to participate in the recruiting process, you are encouraged to contact Cornell University's Office of Institutional Equity and Title IX at voice (607) 255-2242, or email at equity@cornell.edu.
Applicants that do not have internet access are encouraged to visit your local library, or local Department of Labor. You may also visit the office of Workforce Recruitment and Retention Monday – Friday between the hours of 8:30 a.m. – 4:30 p.m. to use a dedicated workstation to complete an online application.
Notice to Applicants:
Please read the required Notice to Applicants statement. This notice contains important information about applying for a position at Cornell as well as some of your rights and responsibilities as an applicant.