Alumni and Partners are Sharing Opportunities
Ortho Clinical Diagnostics
Want to stay in upstate NY? Ortho Clinical Diagnostics is hiring. PhD Scientists are needed for their Assay Development Team in
Rochester to improve lives with diagnostics. Seeking chemists, immunologists, materials scientists with evaluation & statistical analysis skills! Search using  keywords like "scientist" for relevant additional positions. Apply via Handshake if you are from Cornell, and consider looking at other job postings via the medical technology trade organization MedTech of which Cornell University is a founding member.
Eli Lilly
Renato Bauer (PhD'11 Chemistry) Senior Research Scientist, Discovery Chemistry Research and Technology at Eli Lilly, who was in the Cornell Chemical Biology Interface Program, shares job openings for skilled and motivated chemists who are interested in defining and solving challenging problems as part of a multidisciplinary team. The PhD level positions are in Discovery Chemistry Research and Technology, the medicinal chemistry department (San Diego and Indianapolis), and in Small Molecule Design and Development, the process chemistry department. Eli Lilly is particularly interested in scientists who combine multiple skills, including synthesis and computational methods, in innovative ways to unlock key discoveries.  An Aug 6 info session provided guidelines on interviewing, insights into Lilly's interviewing process and entertained questions for a lively discussion.
Capro-X Research Development
Shared by alumnus Juan Guzman, PhD '17, CEO and Co-Founder of Capro-X, who indicated he would be happy to chat with anyone who would like further information or can suggest applicants who are an MS/PhD graduate in biological, chemical, civil, environmental, and mechanical engineering; food science and microbiology and wish to stay in the Ithaca area, with direct experience with fermentation, biorefining, bioenergy, and/or wastewater treatment. This Lead would manage in-lab R&D efforts; performing wet-lab analysis (GC, HPLC, water testing); and assist with building and operating scale-up plants. Interested candidates should submit application materials to hiring@capro-x.com.
Bristol Myers Squibb-Bioprocessing Co-op
PhD'16 alumna Zhen Tong, now Senior Manager at BMS, shares the following:
Co-Op Position in Manufacturing Science & Technology, Bristol Myers Squibb (Devens, MA), a recognized leader & Diversified Specialty BioPharma Company with a clear mission to discover, develop & deliver innovative medicines that help patients prevail over serious diseases. This specific Co-Op position (July-Dec 2020) will be based in Bioprocess Technology group within MS&T. Contribute to the characterization of process parameters (cell culture & protein purification) on critical quality attributes including charge variant distribution of a commercial biologic drug product using high throughput screening systems such as Ambr and Tecan. Responsible for designing, executing & troubleshooting bioreactor & chromatography runs. Coordinate w/ analytical groups for sample submission, testing & data recording. Interpret data, discuss, present & revise/optimize experimental design as applicable.
Email your resume directly to zhen.tong@bms.com. If applicable please check w/ ISSO for your visa status (e.g. CPT) to be able to start the program in July. Advanced degrees (Master & PhD) preferred.
P&G-data scientist, industrial microbiologist & more
Shared by a longtime supporter of our participants, Nancy Sevieux, Ph.D. | Regulatory Affairs Manager | The Procter & Gamble Company | Global Product Stewardship | Email: sevieux.n@pg.com. Search using the keyword "PhD" at P&G Careers. For instance:
Data Scientist – Data Science, Data Engineering, AI, Artificial Intelligence, NLP- Natural Language Processing, Machine Learning, Computer Vision, Deep Learning. For PhDs in Computer Science/Engineering, any pure or applied science/engineering major w/ AI focused PhD project.
Industrial Microbiologist – for microbiology, biotechnology, molecular biology or life science PhD w/ experience or post doc in applied microbial sciences to create industry products or solve challenges.
Life Science (Molecular Biology & Microbiome) – for life science / biology, molecular biology, biotechnology PhD w/ experience in genomics, microbiome, bioinformatics. Focus on host: microbiome interface to address important biological problems.
Data Structure/Engineering – Data Science, Data Pipeline Architecture, Data Analytics- for Computer Science/Engineering, any pure or applied science/engineering major with AI focused PhD project.
InteliSpark-Proposal Development Consultant
Shared by longtime partner, Kirk Macolini, President of InteliSpark, who has previously employed Cornell graduate students. They look for new team members to work on SBIR & STTR research proposals to federal agencies (NIH, NSF, DoD, NASA, DoE, USDA, etc) who:
1) love science – but hate the lab
2) are a productive & effective writer
3) are able to win arguments in both written and verbal form
4) function well in a high-paced, deadline driven environment
See the qualifications for this kind of work by examining a previous job posting. More info about Intelispark. Follow these hashtags on Twitter if this career path is of interest to you: #ithaca #sbir #STTR #writing #proposalwriting
CTL Practicum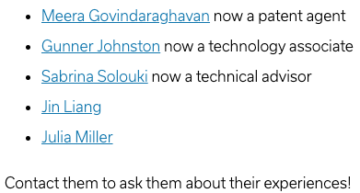 We are so excited that Cornell's Center for Technology Licensing (CTL) is launching the CTL Practicum, an experiential internship program to gain valuable exposure to the process of commercialization of university-based research. Prior to this formal launch, several Careers Beyond Academia/BEST PhD and postdoctoral participants have had flexible internships at CTL. More info here
Several graduate students and postdocs have taken advantage of learning about the patent and licensing process over the years that have in some cases propelled them to a career in this field. They are eager to share with you their experiences and advice for navigating the process of managing your thesis or postdoctoral training while learning these skills.
Life Canvas Technologies-Computational Biologist
Alumnus Frank He PhD '18, a former participant and Senior Application Specialist at LifeCanvas Technologies, is seeking a highly motivated Computational Biologist at LifeCanvas Technologies, an MIT startup in Boston. The company is tackling problems that span a variety of domains: image analysis, big data and machine learning to achieve user-friendly, robust and scalable solutions for their tissue-processing platform. Please contact frankhe@lifecanvastech.com to talk about LifeCanvas Technologies.
Wayfair (founded by Cornellians!)- Analytic Ops
Positions shared by Christopher Vredenburgh, PhD '16, Senior Manager, B2B Customer Intelligence & Decision Sciences at Wayfair. Previously he shared openings for Business Analysts and Senior Business Analysts on Wayfair's growing Insights and Analytics team, asking "If you, or anyone you know, could be a good fit then please reach out!" Contact him for the position descriptions, also posted at our Careers Beyond Academia LinkedIn group.
Upstate NY I-Corps Node-Project Associate
Looking to stay in Ithaca? Got skills in project management and a passion for entrepreneurship? The Center for Regional Economic Advancement (CREA) is seeking a Project Associate, Upstate New York I-Corps Node to help scientists and engineers extend their focus beyond the laboratory, and accelerate the economic and societal benefits of NSF-funded, basic-research projects that are ready to move toward commercialization. More info and to apply
US Assn for Small Business & Entrepreneurship-Editor
The U.S. Association for Small Biz and Entrepreneurship is seeking a new scholar to join the editorial team for USASBE's Annals of Entrepreneurship Education and Pedagogy. The USASBE Annals critically examines past practices, current thinking, and future insights into the ever-expanding world of entrepreneurship education. It includes exploratory research articles, model program profiles, and best-practice innovations from inside and outside the classroom.
First published in 2014, Vol. 4 will be published in 2020, edited by C. Matthews, and E. Liguori who will step down as co-editor. Hence, they are seeking a new scholar to shadow the editorial team for Vol. 4 and then work with Dr. Matthews on Vol. 5.
Ideal candidates will have an established research record in entrepreneurship education and/or strong entrepreneurship classroom and program level experience. Excellent communication skills and the ability to work collaboratively as part of a virtual team are essential. Early & mid-career scholars are encouraged to apply. Prior editorial experience, while helpful, is not a requirement. Email your CV & cover letter to eep@usasbe.org. Review of applications begins August 10th, 2019 until the position is filled. Shared by Thomas G. Pittz, PhD, Interim Executive Director, USASBE.
UNC Office of Grad Ed-Diversity Affairs
The Assistant Director of Diversity Affairs in the UNC Office of Graduate Education has a shared leadership role the NIH-funded UNC Initiative for Maximizing Student Development (IMSD). The individual develops and implements programming for IMSD students and is responsible for organizing and communicating key elements of the program. The individual in this position participates in recruiting for training programs in the Office of Graduate Education (OGE), including the large academic program, BBSP (Biological and Biomedical Sciences Program), and pre-graduate programs. The Director designs academic support and community-building resources to support IMSD and BBSP students and facilitates their training in essential skills for success in research. In collaboration with the Director for Diversity Affairs, the Assistant Director monitors degree progress for IMSD students, advises individual students facing specific challenges, and designs and leads programming to foster community and an inclusive research climate. The Director implements a grant-funded academic coaching program, which includes training and supervising coaches who work directly with IMSD students. The Assistant Director develops, implements, evaluates, and optimizes new and ongoing initiatives designed to enhance the graduate training environment.
In addition, the Director also designs and leads the implementation of a summer undergraduate research internship program. Responsibilities include soliciting intramural and extramural funding, recruiting, intern selection, lab placement, faculty advising, program evaluation, and outcome dissemination. This Assistant Director reports jointly to the Director of Diversity Affairs and the Associate Dean for Graduate Education in the UNC School of Medicine.
Full Assistant Director of Diversity Affairs description and to apply
UNC Grad School-Experiential Professional Development
Director for Experiential Professional Development, reporting to the Dean of The Graduate School, is responsible for development, delivery, and evaluation of programming to support graduate students in exploring non-academic career options, including careers associated with for-profit and nonprofit entities, and government and academic careers that intersect the private sector. The position will coordinate and administer career exploration and professional development activities, including existing Professional Science Master's (PSM) degree programs and the Graduate Certificate in Business Fundamentals (GCBF). The Director will serve as the Graduate School's direct liaison to industrial and other external partners and will collaborate the Career Center, Corporate and Foundations Relations, and other campus offices tasked with career development and industry engagement. The Director will also work closely with alumni, faculty, staff, and other key stakeholders to advance existing partnerships that support effective and innovative professional development programs. This position may involve limited teaching of professional development courses which are offered both residential and online which will be accomplished through a secondary faculty appointment. Full Director for Experiential Professional Development description and to apply
BioScience Writers positions
Alumna Marsha Lampi, Freelance Editor with BioScience Writers and Lecturer with the Division of Undergraduate Programs and Student Success at the University of Huston Cullen College of Engineering, shared job opportunities BioScience Writers, based in Houston, Texas. The staff at BioScience Writers help academic, clinical, and corporate scientists around the world write high-impact manuscripts for publication in journals, grant proposals for funding, and other types of scientific technical documents. BioScience Writers seeks contract Scientific Editors and Writers to help edit and write manuscripts, reviews, grant proposals, technical documents, presentations, clinical documents, and other scientific materials for their clients–visit the BioScienceWriters site to apply. For Client Services Consultant: please submit a CV and a description of your experience in scientific writing (publication and grant funding), project management, leadership, and customer service.
Society for Neuroscience (SfN)-Consultant
The Society for Neuroscience (SfN) is seeking a consultant with expertise in higher education assessment to help conduct a survey of neuroscience departments and programs. If you have suggestions of individuals or groups who may be interested in learning more about this project, please contact sraver@sfn.org.
SfN conducts a periodic survey of neuroscience departments and programs to collect and report on data related to program details like enrollment and demographics, training and curricular issues, administrative structures, and faculty. The survey is designed for and completed by program directors, administrators, or department chairs. SfN last conducted a survey and 2016 and are looking ahead to the next iteration of the survey, to be released in June 2020.
A consultant with expertise in higher education assessment to help field the survey in June 2020, analyze the data, and prepare the final report by October 2020. Please send recommendations to Sylvie Raver, PhD at: sraver@sfn.org, and SfN will be in touch with a Request for Quote (RFQ) for your/their consideration. More information is available on the SFN website.
History Center in Tompkins County-Public Humanities
Funded by a Society for the Humanities & Humanities NY grant to work with The History Center in Tompkins County. They are seeking an experienced grad student to:
develop programming for place-based educational initiatives that encourage people to get to know Tompkins County. More information is available on the History Center website.
Render the histories of our local & regional landscapes visible & more readily accessible for research, teaching, & heritage tourism
Develop ever more ways to collectively plan, create, & disseminate pedagogical resources & innovations
Design engaging hands-on experiences with how field & archival work inform disciplines such as history, ethnography, geography, cultural anthropology, gender & race studies
Work w/ Cornell German & Comparative Literature Prof Paul Fleming (pf239@cornell.edu), Romance & Africana Prof Gerard Aching, & The History Center staff & trustees on "Place-making." Grad student public humanities $3,000 summer opportunity Jul.1-Sept.30, 2019 (then through Dec. with great flexibility)
Apply by June 17, 2019 to Kina Viola, kv89@cornell.edu with a letter of interest, a resume/CV, a brief faculty reference (approving participation) Questions? (607) 255-9274
GSK BioPharm-Downstream Process Development Co-op
Shared by Cornell alumnus Kent Gocklen who has been invited by Careers Beyond Academia to speak regularly. Several co-op positions are open within the BioPharm division of GSK in the department of Downstream Process Development at the Upper Merion Campus located at 709 Swedeland Road in King of Prussia PA. The positions are coalesced into a single posting that can be searched by position number. Please contact Mehdi Ghodbane at medhi.x.ghodbane@gsk.com if you have any questions about this opportunity. Forwarded by Sam Flores, Associate Scientist, Downstream Process Development, RD BioPharm R&D, GSK, Email sam.x.flores@gsk.com
Regeneron-PhD Internship
Shared by BEST mentor Bailey Cooper, PhD '16, Scientist, Regeneron Pharmaceuticals:
Regeneron recently had a summer intern cancel at the last minute for a 10-week long paid internship this summer in Tarrytown, NY. For PhD candidates with experience in microfluidics or materials for controlled release. Email your CV directly to yiming.zhao@regeneron.com. (no need for a cover letter).
Science & Technology Policy Institute
PhD alumna in Materials Science Abby Goldman shared a posting at the Science and Technology Policy Institute for a summer associate position for grad students from a variety of disciplines including computer science, infotech, math, chem, physics, operations research, aero/astronautical engineering, MechE or electrical engineering, as well as materials science, international relations, policy studies, social & behavioral sci., statistics, finance, and economics.
Medical or Regulatory Writing
After working for three years at Syntax, PhD alumna Jocelyn Marshall, Medical Communications Specialist at Biolumina, shared opportunities in medical or regulatory writing at her company in NYC and asked us to distribute them to participants interested in science communication. If you are interested in becoming a medical writer or regulatory writer feel free to reach out to her for advice!