Become involved in a startup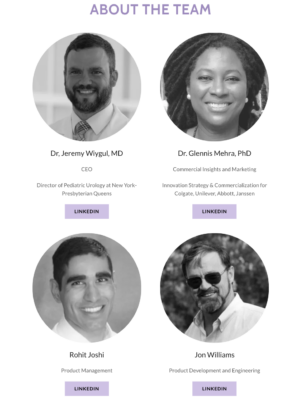 Would you like to get involved in a medtech startup as a mentored principal investigator (PI)? Can you dedicate 20h/week remotely? Would you like to be mentored by industry experts? Check out this opportunity shared by alumni.
REMOTE POSITION shared by Cornell alumnus Ben Russo MBA'14 via Colin Jermain
principal investigator (PI)
starting spring 2022 for a six month period (pending grant funding)
pay rate range – $25-35 per hour depending on skill level
The needs of the PI are technical only, and no business deliverables are required.  That said, the candidate can, if they choose, gain exposure to the overall business strategy of the company.  The PI will be required to write reports to be filed on regular basis that include expense reports and product development progress reports to the granting body . The PI will also need to communicate with everyone in the company as needed for product development.
There is no specific area of expertise sought, purely the ability to manage a technical project.  The ideal candidate is looking to gain exposure to product development and entrepreneurship in the medtech space.
Pelex Team & Mentors:
Jeremy Wiygul, MD – Assistant Professor of Clinical Urology at Weill Cornell Medicine and Serial Inventor with three separate patents, including an unrelated FDA – approved catheter technology  currently in clinical trials
Glennis (Mathews) Mehra, PhD – Director at Biolabs@NYULangone, commercialization and innovation strategist, and entrepreneur with clients such as Colgate, Unilever, Janssen Colgate, Unilever, Abbott, Janssen
Rohit Joshi, MBA – Product Director at Quest Diagnostics, having previously led marketing and product management for two venture-backed healthcare startups and successfully developed and launched three medical devices
Jon Williams – Engineer/Product Manager for multiple cardiac devices with 20+ years experience as well as an original team member for the creation of daisy wheel printer, local area network, word processor
Ben Russo, MBA'14 – Clinical Marketer at Johnson & Johnson with experience on multiple market-leading medical device brands
Questions?
Contact Jeremy Wiygul: jeremy@pelex-med.com
About the company:
Pelex brings proven best-in-class clinical therapies for pelvic floor disorders into an easy to use, non-invasive, at-home device. Early use of our system is designed to prevent symptoms from getting worse or requiring the use of medication or surgery. While Pelex is still being structured, its mission will evolve from the opportunity to simplify and enhance the standard-of-care for pelvic floor disorders.  Our vision is a world in which patients are empowered to manage their own pelvic floor health and wellness.