Insight Fellows Program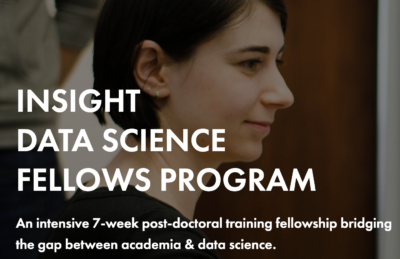 What is Insight?
The Insight Fellows Program is a seven-week professional training fellowship for graduating students and working professionals looking to transition to thriving careers as data scientists, engineers, and other cutting-edge professionals. Insight takes a unique approach, working closely with partner companies to match Fellows with the hiring teams that represent the best fit for their skills and experience.
Gain a Network
Since 2012, Insight has helped over 3,000 Fellows transition to thriving careers in a variety of data and tech fields. By joining the Fellowship, you're also joining an extensive community of industry leaders, and gaining connections to thousands of data and tech professionals from hundreds of companies. This is an investment in your future that pays dividends for years to come.
Careers Beyond Academia can connect you with Cornell alumni who have taken part in this opportunity who come from fields of study as broad as philosophy, physics, ecology or biomedical engineering. Ask them directly how they made their applications successful and what they got out of the program!
Getting Hired
88% of Insight Fellows accept a job offer in their chosen field within 6 months of finishing the Fellows Program, and the median time to hire is 8 weeks.
Starting Salary
The average starting base salary for Insight Fellows across all locations is $126,000. The average bonus is $12,000, and almost all Fellows receive either equity or stock grants. The average stock grant for publicly-traded companies is $26,000 per year.
Available Insight Programs:
Artificial Intelligence
Data Engineering
DevOps Engineering
Decentralized Consensus
Security
Data Science (PhD required)
Health Data Science (PhD required)
Programs are open to all degree levels, except our Data Science and Health programs, which have a PhD requirement.
Hiring Companies
Insight alumni are now working at Facebook, LinkedIn, The New York Times, Apple, Airbnb, Netflix, Memorial Sloan Kettering Cancer Center, CVS Health, 23andMe, Bloomberg, NBC, Bosch, American Express, Microsoft, and 700+ other top companies.
Post-Program Experience
Beyond the seven-week program, Insight Fellows get access to a structured, highly-personalized post-program experience. This personalized post-program experience that we introduced as of Summer 2020, helps Insight Fellows get jobs 40% faster and earn $10,000-15,000/year more than the results quoted above.
Fully remote for fall 2020
Apply by July 20 for Sept. 14 start date. For graduating students (must have completed all coursework by September 14th in order to participate full time) for fall sessions.
Scholarships Available
Everyone with the right skills can participate in Insight regardless of financial challenges. Several scholarships (including need-based and scholarships for underrepresented groups in tech) help reduce the barriers keeping you from participating in Insight's programs and taking those first steps to launch your thriving career. Learn more about available scholarships.
Locations:
Sessions will take place remotely, but Fellows will interview for jobs in the following cities:
San Francisco
New York
Boston
Seattle
Toronto
Los Angeles
Austin
Chicago
Denver
Portland
Washington DC
Upcoming Deadline & Start Date:
Next application deadline: July 20
Session begins: September 14
Learn more about Insight programs
Want to learn more about Insight and our programs? Visit the Insight Fellows website.
Please note that while Fellows can attend the program from anywhere, they will still interview for roles in their chosen program location. All eligibility criteria still apply. Visit our FAQ page for more information.
As the COVID-19 outbreak continues to have an impact around the world, Insight has made the decision to run fall programs remotely, in both the U.S. and Canada, to protect Fellows and teams, and because the vast majority of the benefits of Insight translate to the remote experience, and there are actually many additional benefits.
Not ready to apply? Sign up for the notification list.
Questions? Email info@insightdatascience.com