Technology Commercialization Practicum at CTL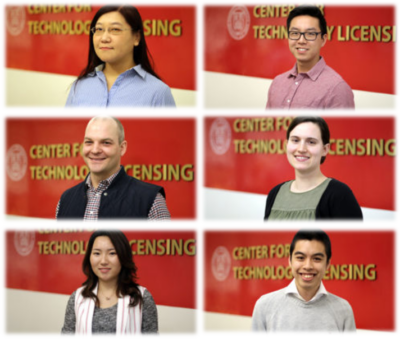 Up to five 'practicants' are selected, depending on application numbers, for the Center for Technology Licensing (CTL) Practicum, launched in 2019, an experiential internship program at CTL to gain valuable exposure to the process of commercialization of university-based research.
Selected practicants receive a robust training, are exposed to a wide range of emerging technologies, and gain experience in technology assessment, market research, and venture support. Read about one practicant's experience: CTL Practicum, Your First Step on an Alternative Career Path with Your Graduate Degree.
Let us know if you are interested or would like to connect with Cornell alumni who are engaged in careers in this sector! Skills in tech transfer are applicable to many career paths beyond becoming a technology transfer professional: patent examiners, patent agents, business development, economic development, regulatory scientists, lawyers, licensing specialists, and entrepreneurs.
More information about the CTL Practicum. The next application deadline is end of October 2020.
The 2020 cohort:
Ithaca Office
Jin Liang, Research Associate, Weill Institute for Cell and Molecular Biology
Martin Liu, Graduate Student, Food Science
Julia Miller, Graduate Student, School of Integrated Plant Science [see her interview with Graduate Women in Ag Science]
Adam O'Neal, Graduate Student, Department of Molecular Biology and Genetics
Luc Truong, Graduate Student, Department of Molecular Biology and Genetics
Ruby Xu, M.S. Student, Mechanical & Aerospace Engineering
Weill Office
Rachel Leicher, Graduate Student, Tri-Institutional (Tri-I) Program in Chemical Biology (TPCB)
Olga Lyudovyk, Graduate Student, Tri-I Computational Biology and Medicine
Network with colleagues
Prior to this formal launch, several Careers Beyond Academia/BEST participants have had flexible internship-type experiences at CTL through a less formal arrangement, as described in Applying Experiential Learning to Career Development Training for Biomedical Graduate Students and Postdocs: Perspectives on Program Development and Design:
And others in previous years!
Parag Mahanti (PhD'13 Chemistry and Chemical Biology) now Director of Strategy and Operations, Managed Markets Business Planning at Novartis
Maria Nikolou (postdoc alumna) now Entrepreneurship lead at the Saïd Business School, University of Oxford
Soorena Izadifar (MBA'05) now in Licensing & Innovation Partnerships at ThermoFisher
Contact them to ask them about their experiences!
Selection Criteria for the CTL Practicum
Demonstrated interest in technology transfer, innovation, entrepreneurship
Commitment and availability for 10 hours per week
Ability to attend patent meetings and inventor meetings with Licensing Officers
Approval of the research advisor.