Vaccination Conversations with Scientists (VaCS)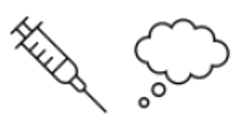 Put your science communication skills to work to get Tompkins County to herd immunity! Join Vaccination Conversations with Scientists (VaCS) to help your community understand the science behind the COVID-19 vaccines. Sign-up to volunteer!
VaCS is a collaboration between several county health departments and Cornell Advancing Science and Policy, with funding support from the Provost's Office. The goal is to engage the community and answer questions about vaccine safety and COVID-19. We conduct several types of outreach: phone-banking (virtual), tabling at events, door-to-door canvassing, and information sessions.
You do NOT need to be an expert in COVID-19! We will provide training to prepare you on the science, as well as communication strategies to deal with controversial topics. We welcome scientists of any level: grad students, postdocs, laboratory staff, and faculty!
Use your scientific training to help your local community! Let's make herd immunity a reality! Please email cornellasap@gmail.com with any questions.