Vaccination Conversations with Scientists (VaCS)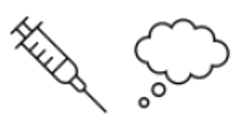 Put your science communication skills to work to get our region of NY fully vaccinated! Join Vaccination Conversations with Scientists (VaCS) to help your community understand the science behind the COVID-19 vaccines. Sign-up to volunteer!
VaCS is a collaboration between several county health departments and Cornell Advancing Science and Policy, with funding support from the Provost's Office. The goal is to engage the community and answer questions about vaccine safety and COVID-19. We conduct several types of outreach: phone-banking (virtual), tabling at events, door-to-door canvassing, and information sessions. While it might seem like an impossible task, 29% of our conversations with unvaccinated people have actually increased the self-reported likelihood of vaccination! Vaccine outreach is a great way to use your scientific knowledge to tangibly improve the lives of people in your community.
You do NOT need to be an expert in COVID-19! We will provide training to prepare you on the science, as well as communication strategies to deal with controversial topics. We welcome scientists of any level: grad students, postdocs, laboratory staff, and faculty!
Use your scientific training to help your local community! Let's make herd immunity a reality! Please email vacs@cornell.edu with any questions.
The VaCS Live Training & Expert Panel held on Jan 27, 2022 at 6 PM has been recorded and can be accessed via this link. Please watch this recording, review the training materials, and go over the talking points before you sign up to volunteer.You should also join our slack channel and keep an eye out for weekly emails from VaCS to learn when our next events are. All events are kept up to date in this sign up sheet.