W.E. Cornell applications due October 7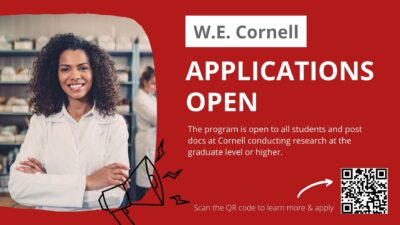 Cornell students who are conducting research at the graduate level or above and are interested in entrepreneurship are invited to apply to Women Entrepreneurs at Cornell (W.E. Cornell). Applications to join W.E. Cornell are due by Friday, October 7.
W.E. Cornell is a cohort-based program that empowers deep tech graduate, PhD, and post-doctoral scholars at Cornell University to commercialize their innovations and overcome the challenges of leading a technology-based business. With the effects of climate change becoming increasingly evident in our society, those conducting research in the climate tech space are encouraged to apply, advancing innovations that have the potential to save our planet. Combining a proven entrepreneurship curriculum with a focus on leadership development and empowerment, participants will finish the program not only prepared to take the next steps in their entrepreneurship journey, but provide solutions that could help solve some of the world's most pressing problems.  
The program is open to all students and post docs at Cornell conducting research at the graduate level or higher including women, female-identified, and non-binary students. Applications for fall 2022 will be accepted until October 7. Apply now.  
If you would like to learn more, join like-minded deep technology entrepreneurs for a complimentary lunch and informational session on September 13 or a virtual informational session on September 27. During the session, the W.E. Cornell team will lead a discussion with role model speakers focused on the challenges specific to women entrepreneurs and innovators while sharing benefits of the W.E. Cornell program and highlighting other entrepreneurship opportunities at Cornell. Register here.