Advice for Public Communication of Science

People won't trust you because you are a scientist, the panelists said, they will trust you because you are a person with whom they have something in common.
If facts and values go up against each other, values will win every time, they said.
A diverse group of panelists shared their personal stories and advice for public science communication to graduate students learning new skills in Bruce Lewenstein's COMM5660 Science Communication Workshop at Cornell University. Keys to their successful experiences include a deep understanding of the audience, finding a community of communicators, telling a human story instead of just the facts, and building trust with the audience.
After Tristan Fehr, a PhD student in neuroscience at Icahn School of Medicine at Mount Sinai in New York City, discovered opportunities at the New York Academy of Sciences, it changed his life. "I couldn't tell my first advisor I was interested in SciComm. I switched advisors, and before choosing was careful to find out if they would be supportive of my interests," he said. To address the gap in instructional offerings, he created a science communication course for the surrounding communities of Mt. Sinai and now manages the New York City science communication blog (nycscicomm.org). "Whether it's talking to taxpayers who fund the research, or policymakers, I need to get the word out about what their investment in research does, how it relates to them, and what they can do about it," Fehr said. He has developed an appreciation for "what he didn't know he didn't know" through questions from public audiences, and this has helped him understand that the burden of understanding is not just on the listener. His advice? "Take advantage of opportunities; don't just plan, start actions—try it out!"
Nyasha Mudukuti, now a Science Communication and Networking Associate at the Alliance for Science, took a risk in seizing one such opportunity. "My first flight was to America to speak as an undergraduate at the World Food Prize Conference where I told my story," she said. Initially, she wanted to be a doctor to give life. As a child growing up on a farm in Zimbabwe, her perception was that farming was a lowly position and she vowed she would not be involved in a profession where she had to use her hands to weed fields. So, she decided to study plant molecular biology at the University of Michigan. But she found that although she was good at it, she really did not enjoy the benchwork and started questioning her purpose. "What is the point of doing so many years of research if it's not communicated with the people who can benefit from it? I found I wanted to bridge the gap between the scientist and the farmer—and everyone and everything in between: the consumer, the environment, and so on."  Then she thought, why not use her passion for science and biotechnology to help people live? Now she works with farmers to help them feed their communities and make enough money to educate their families. By learning to communicate the scientific information that will help farmers not misconstrue its value she has discovered people's decisions are not based on the facts alone. Her advice? "Connect with your 'why'—why do you do what you do?—to connect and build trust with your audience."
Lyza Maron discovered her 'why' through a series of baby steps she took in her transition from full-time researcher toward being a full-time science communicator. "Initially I thought we could 'science our way' to solutions and that scientific research would be the difficult part, not the adoption of scientifically proven solutions. But then I learned it's not that simple. In the end, I found that changing one person's mind meant more to me than all the science I was doing. And telling the facts using accessible language is not enough – it's about trust. Because trust happens when we identify with others as individuals within our social groups, I learned we need to look at the science as a job and scientists as people." In her career transition, she found that social media allowed her to find community with others interested in science communication and find out what other PhDs were doing with their professional lives. "I found out it's OK to not know what you're doing next," she said. After connecting with National Public Radio science reporter Joe Palca who was invited to speak at Cornell through the invitation of the BEST Program (now Careers Beyond Academia), she gained experience editing and writing for the general public. She tested the waters by becoming a science editor on the side.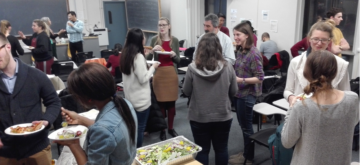 The panelists highlighted the importance of science communication skills in an increasingly interconnected world.  All stressed the benefits of knowing your audience and respecting people's values, especially when they might be at odds with a scientific concept. The speakers also presented a spectrum of ways to communicate science, from as simple as posting your personal lab story on Instagram to outright pursuing a career as a journal editor.  A networking session allowed participants to engage informally with the speakers and to get to know each other. As they left, participants were encouraged to take risks, know their strengths and practice humility in developing their science communication abilities.
The panel was the opening session in a weekend workshop on Science Communication (blogs.cornell.edu/scicommworkshop). Originally developed by graduate students in 2007, the workshop is now offered every semester at Cornell. Friday's discussion was moderated by Rachel Sandman, a graduate student in genetics who is also participating in the workshop.