Attending the AIMBE Public Policy Institute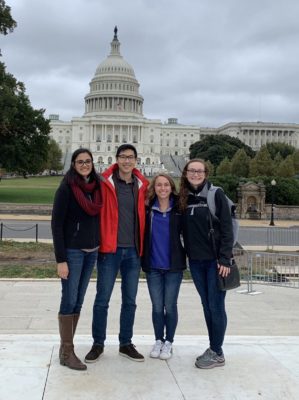 Graduate students Carolyn Chlebeck, Patrick Muljadi, Monideepa Chatterjee, and Regan Stephenson joined forces to attend the AIMBE Public Policy Institute in Washington DC on October 29-30, 2018. Cornell BEST Program* supported their shared interest to connect their work to the funding sources that enable it, as well as the research's impact to greater science policy, the community, and the changing research landscape. Through meetings with invited speakers of varying backgrounds, they gained an understanding of potential career paths in government, industry, and NGOs.
See what they learned and feedback about their experience:
"The AIMBE Public Policy Institute provided insight into policy careers in a variety of governmental functions. Speakers ranged from lobbyists to intellectual property experts to scientists from the FDA and NIH. This allowed me to develop a better sense of what an employee with higher education degree could achieve in each of these positions. Opportunities to network with these speakers also expanded my understanding of each organizations' functions, goals, and corporate culture. This experience helped me to narrow down my career interests as well as opened my eyes to opportunities I did not know were available."-C. Chlebek

"The AIMBE Public Policy Institute exposed us to policy experts and leaders who play a significant role in shaping medical and biological engineering. Speakers included FDA and NIH directors, governmental affairs representatives in industry, and advocacy leaders. We learned about how policies at the NIH and FDA are used to impact culture and environment in research labs and medical device companies. We also discussed the status of recent policy changes like the 21st Century Cures Act on various organizations. Overall, this experience broadened my knowledge of how policy shapes my field and future career and the various policy oriented positions and roles available to PhD graduates in biomedical engineering."-P. Muljadi

"The AIMBE Public Policy Institute provided great insight into a number of different policy perspectives, such as the FDA, NIH, trade associations, industry, and nonprofits. As a PhD student, it was refreshing to learn about these perspectives and how they apply to my research and career. In particular, I found the session about the NIH very informative, as the speaker spoke about the grant funding cycles and how policy shapes what grants are funded. I also really enjoyed the industry speakers who spoke on the role of government affairs in medical device companies and how they advocate to policy makers the importance of R&D and patients' insurance. Additionally, this was a very unique setting to meet other biomedical engineering PhD students from universities across the country and allowed for networking opportunities with students with similar career goals." M. Chatterjee
"This program provides a look at how people with PhDs in biomedical and biological engineering and the biosciences can apply their training in a science policy job post-graduation. The two-day workshop described the breadth of jobs available in science policy in Washington DC as well as the steps it takes to be offered those jobs.From this event, I learned that there are many non-academic jobs in regulation and policy development for people with my expertise. It was nice to hear the successes of other students in my field getting into the seemingly exclusive sector of public policy. I think that the participation of scientists and engineers in government is becoming increasingly more important, and this Institute made that even more clear.

I recommend this workshop to PhD students in Biomedical Engineering and the biosciences that are interested in non-academic positions. Whether or not they think they have interest in this field, it is helpful to attend even if only for informational purposes" R. Stephenson
AIMBE is the American Institute for Medical and Biological Engineering, a non-profit headquartered in Washington, D.C..
*This spotlight is from the time period of the NIH grant (Sept. 2013- Jun. 2019) to the Cornell BEST Program now housed in the Graduate School as a university-wide initiative "Careers Beyond Academia" to encompass all disciplines.