Careers in… Industry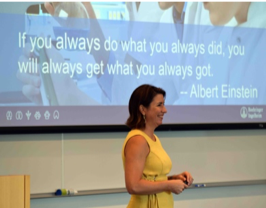 The special seminar on Careers in…Industry post DVM and PhD on July 16 was led by Monica D. Figueiredo who earned her veterinary degree at the Universidad Federal Fluminense, Rio de Janeiro, Brazil. Following graduation, she completed a two-year Equine Internship at the Marion DuPont Scott Equine Medical Center, Virginia, followed by a three-year residency program in Large Animal Medicine at Cornell University, New York.
Figueiredo then moved to the College of Veterinary Medicine at the University of Georgia, where she earned her PhD in the Department of Physiology and Pharmacology. She joined Merial, now part of Boehringer Ingelheim in 2008 as a Veterinary Scientist in R&D, where she primarily worked in the area of canine vaccine development.  In the last five years she has served as Director of External Innovation and has been thrilled to work with the latest technology in a variety of fields related to improving animal health.  She is based in Athens, GA.
If you missed this presentation, participants summarized below what they got out of Dr. Figueiredo's presentation:
"Detailed insight into pharmaceutical careers and types of positions for recent graduates."

"There are opportunities for DVM/PhD without residency experience in industry."

"Knowledge regarding what it's like to work in R&D and the path to get there."

"The diversity of positions in industry."

"How the industry job environment works."

"Great and casual, with lots of question opportunities."

"Career options"

"New opportunities"
Dr. Figueiredo indicated her willingness to be a mentor to PhDs interested in a career in industry, whether you have a DVM or not. Continue the conversation with her to learn more specifics: reach out to learn more!
Keep your eye on some of the opportunities she shared with the audience:
This spotlight is from the time period of the NIH grant (Sept. 2013- Jun. 2019) to the Cornell BEST Program now housed in the Graduate School as a university-wide initiative "Careers Beyond Academia" to encompass all disciplines.