Day in Albany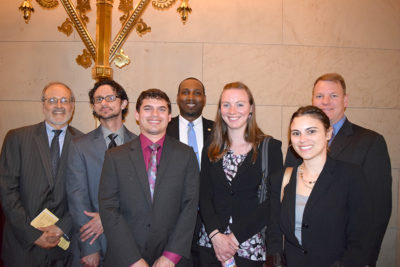 Participants interested in science policy applied to and were selected for this opportunity to visit the state capitol of Albany to learn about the general dynamics of state government and the specific role scientists play in shaping effective policy. We started the day off at the Cornell State Relations office with a briefing session by Charles Kruzansky, Associate Vice President for Government Relations and Zoë Nelson, Associate Director for State Relations on what to expect throughout our visit. Helpful suggestions included how to use the moment of introduction to let the person you are meeting with know who you are, including your background and interests, because it might be the last time you get the chance to speak. While we were there, an Albany Times Union columnist and investigative reporter Jim Odato dropped by with John Carberry, Cornell's Director of Media Relations, to share his personal experiences with digging up interesting stories and how to always think of your audience so you tell the story from the perspective they want to hear.
Hits and misses
It was impressive to see the work of Julie Suarez, Associate Dean of Governmental and Community Relations in CALS, who assembled broad representation for a Pollinators Roundtable to plan how the state should address in a comprehensive way the dramatic decline in bee populations and the economic toll that spills over onto vegetable and fruit farmers. After a personal introduction to Senator O'Mara, chair of the Environmental Conservation Committee, we were able to sit in to see first-hand how he acquires and uses scientific information to inform policy. From Cornell researchers and extension officers, beekeepers, NYS Ag & Markets and other government groups, to beekeepers' association representatives, the Farm Bureau and citizen advocacy groups, each voice was heard. Suggestions and requests will be compiled into a forthcoming report to build on the governor's interagency taskforce efforts. The group was commended for its comprehensive approach, as a short-term fiscal remedy for bee farmers without consideration of the long-term effects of pesticides, climate change, pests, habitat loss, and management practices would surely result in failure. Earlier in the day we experienced the actuality of trying to get an audience with an assemblyman. Interestingly, it involves an indirect method. First, Zoe Nelson provided a contact card to the gatekeeper whose responsibility is to find the legislator within the session halls. Then, if they accept the meeting request (which had actually been arranged weeks ago) and comes to the door, the group can enter prior to the formal gaveling in of the legislative session of the day. In our case it was not to be, but the effort reminded us that this is the culture within which this type of policymaker works. To us, it was equivalent to getting your first taste in a real research lab when suddenly a whole bunch of your experiments fail, because they are not rigged like in a high school lab. Without persistence to try again, you won't be suited to this profession!
The long and short on the NYS Department of Health (DOH)
After a lunch discussion of early impressions, we caught up with three members of the State Department of Health. Rachel Malloy, of the AIDS Institute at the DOH, is an epidemiologist who is concurrently an assistant professor at the University of Albany.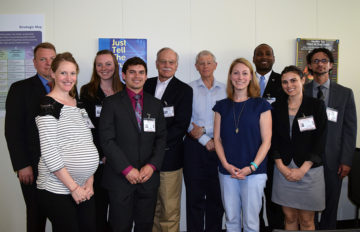 She valued her internship at the DOH and loves what she does because it is very interdisciplinary, and involves a lot of communication to the public and policymakers. Dan Gordon, a research scientist at the DOH has worked on transmitted drug resistance and time of HIV infection. He explained how inextricably linked ethics, science and policy are, and that to be successful in this field you really have to have a handle on all three. "In the health department, you must be judicious in speaking truth to power." Gus Birkhead, retired Deputy Commissioner of the Office of Public Health and SUNY Professor of Epidemiology also shared his role and winding career path. How to get a job there? With a PhD you don't have to enter via the civil service exam, but should look directly at opportunities on the Health Research website. Hot future areas? Brain-computer interfaces, smart analysis of large data sets, emerging diseases. Skills they seek in applicants? Ability to write clearly and explain succinctly to understand the position, exposure to teamwork and knowing what other skills need to be invited to the table to round out a team. What would set you apart as a PhD applicant? With firm science in your pocket, you should also know how waiting for Assemblyman Englebright to involve and work with advocates, be able to present to wide audiences, and have the ability to use hard science to inform the soft stuff (like for policy intervention). Although their work is based on the science, they cautioned, newcomers to the field must realize it is a slow process, that politics gets involved, and budgeting is an underlying theme.
You must be able to understand the consumers- the communities you serve. What you find isn't always what people want to have found…you have to develop a capacity among scientists, the politics and policies, and focus on communication. "We have to clearly communicate what we know, what we don't know, what we'll do to find it out, and what we should do."
Inspiration and Power
Our last visit was at the Department of Environmental Conservation where we met with the Assistant Commissioner of Water Resources at the NYS Department of Environmental Conservation, James Tierney. This one-on-one discussion was one of the most revitalizing and interesting conversations of the day as he spoke to us about the importance of power in politics and the inestimable role scientists can play in the policy arena. While providing a number of anecdotes, he stressed the point that scientists should manifest confidence while taking on the major role of disseminating scientific knowledge with the public at large. In addition, he expressed the need for more scientists to partake in governmental affairs to facilitate the formation of more expansive science and health based policy and legislation. His inspiring advice left everyone with a strong sense of motivation and sparked a discussion amongst us all on the ride back to Cornell. His book recommendation? Hardball.
In conclusion, it was unanimously agreed upon that the trip was beyond educational as we gained a better sense of the impact and various roles scientists can have in policy.
By Sabrina Solouki and Susi Varvayanis