Diverse stakeholder perspectives improve PhD career & professional development programming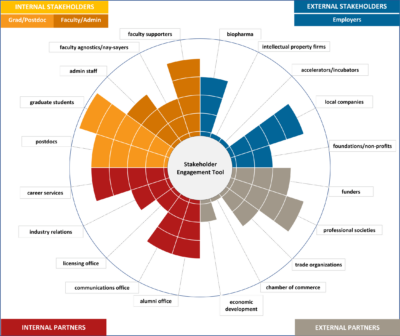 Career development offices benefit from collaborations and network development with industry employers, a new study finds.
The study, "Using Stakeholder Insights to Enhance Engagement in Ph.D. Professional Development," published January 27 in PLOS ONE.
A team of researchers including Susi Varvayanis, executive director of the Graduate School's Careers Beyond Academia, and Conrad Smart, physics doctoral candidate, interviewed 45 stakeholders from academic institutions about their perspectives on career development for doctoral students. Using a stakeholder engagement visualization tool developed by the authors, they assessed stakeholder-identified strengths and weaknesses.
Read more on the Graduate School website.
Share this news
Cornell Chronicle: FacebookTwitterEmailShare
Careers Beyond Academia Twitter: @CUGradcareers; LinkedIn: Careers Beyond Academia
About the study:
External partners agree there is a need for centralized services and points of contact; grad students and postdocs seek more consistent and regular exposure to career training and professional development opportunities. Stakeholders from for-profit industry, non-profits, funding agencies and professional societies invite partnerships to engage with academics for a host of reasons. These themes are highlighted in a new study published in PLOS ONE, whose authors also provide an efficient tool to help academic administrators seek out systematic ways to self-assess and diversify their networks to expand partnerships to benefit their doctoral populations. Authors include @DeeptiRamadoss @abolgioni @RebekahLayton @AlderSuss @NLundsteen @AbbyStayart @JodiYellin Cornell @CornellGrad Conrad Smart and @CUGradCareers. the article highlights the importance of seeking input from a wide variety of diverse stakeholders and collaborating with them to provide more tailored and cohesive career development activities, talent pipelines for employers, and importantly establishing partnerships for mutual benefit.