Drug Development Conference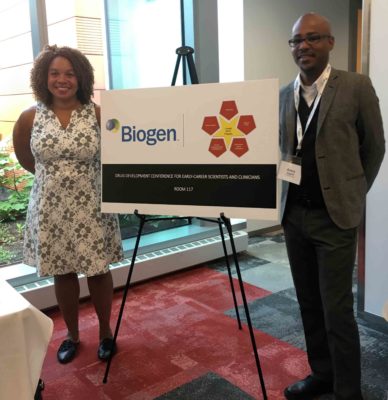 Biogen and Careers Beyond Academia partnered to create the Drug Discovery Conference on June 20-23.  This unique drug development workshop allowed biomedical trainees (grad students, postdocs, and clinical fellows; within two years of completing this phase of training) to participate in and learn about critical questions that are addressed at each stage of the drug development process from concept to approval. Participants were exposed to a variety of roles/positions that support the pipeline, to demystify the process and explore the skills needed for scientists and clinicians interested in biopharma or regulatory affairs careers.
This three-day workshop, sponsored by Biogen in Cambridge, MA, featured discussions and hands-on experiences in drug development-related topics, including:
The approval process for new drugs and biologics: Investigational New Drug (IND) to approval
Generating a strong data package that includes pharmacology (preclinical, clinical), compound generation, safety (preclinical, clinical), biomarker, and clinical trial design and strategy
Interacting with regulators
How business development evaluates products of interest for licensing
Differentiating between corporate development and corporate strategy
Read this article about this partnership with Biogen to offer training on the process of developing new drugs.
The conference was spearheaded by Cherié Butts, associate medical director in clinical development at Biogen (Cambridge, MA) and Avery August, Cornell BEST Program PI, vice provost for academic affairs, and professor of immunology.
Hao Pan, a Ph.D. candidate in molecular biology and genetics, and Christopher Ptak, a postdoc in molecular medicine, attended from Cornell. In all, 39 participants from NIH BEST Consortium institutions, as well as Johns Hopkins University and Meharry Medical College, took part.
Testimonials:
"It was a very rewarding experience. In this intensive three-day event, I learned a lot about the basic drug development process which I didn't know much about. One benefit was learning some of the vocabulary needed to communicate with people in the pharmaceutical industry. I also learned about the various roles involved in the drug development process. As a Ph.D. student, I usually focus on the R&D positions in a biotech industry, but there are actually a lot more positions one could pursue. Some of these include clinical development, business development, portfolio management, medical affairs, and policy. In addition to just being part of the audience, I really liked the activity in which we split into different groups and took on a mock drug development project. It gave me a chance to see myself in the real setting, think outside-of-the-box, and feel what is like to work in the pharmaceutical industry. It is never too late to see what is behind the scenes. It was quite an eye-opening experience, and changed the way I see my future career path, Overall, I would recommend this event to others who are interested in this industry field." -H. Pan
"The Biogen-sponsored conference greatly enhanced my knowledge of the drug development process. Talks from leaders in the pharmaceutical industry highlighted the diversity of essential roles in the discovery, development, clinical phases, approval, and manufacture of a new drug. The conference talks were well organized with the initial talks providing an overview of the drug development cycle (e.g., portfolio management) and later talks becoming more focused on specialized roles (e.g., bioengineering; regulatory affairs). In addition, the group had the opportunity to tour a Biogen research facility housing the company's flow cytometry instrumentation. The conference also featured team-building exercises designed to emphasize the importance of the teamwork required to bring a drug through each stage in development. The final day included team presentations and a talk from a pharmaceutical recruiter who outlined how to transition into a position in industry. Although flexibility, communication, and an understanding of a company's target space were emphasized as key to a successful move from academia to industry, doing good solid, science evidenced by publications was also noted to be equally important. We were given a rigorous introduction to the drug development process from a pharmaceutical company perspective. For topics that were unfamiliar to me, there was less time to digest the new information than I would have liked. Since this was the first year of the conference, I expect that next year there will be adjustments made to ensure that participants get even more benefit from the experience. Overall, the conference was a great way to become familiar with the broad roles available to Ph.D.s and postdocs in the pharmaceutical industry. I would recommend the opportunity to Careers Beyond Academia participants interested in exploring career paths outside of academia." -C. Ptak