Employer Ready LinkedIn Workshops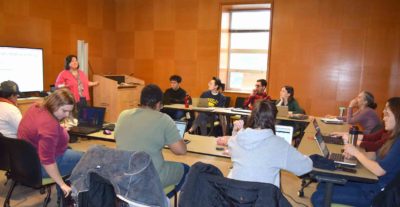 Careers Beyond Academia hosts LinkedIn Workshops for all disciplines. The workshops are held on a monthly basis due to popular demand. Participants learn tips on what employers are looking for, share keywords and best practices.
Participants have been surprised to discover that their profile is viewed for a short time by interested employers. One participant stated the most important information they learned was, "Make your profile stand out to recruiters in 6 seconds but treat it like a CV and fill in details."
Workshops are limited to 10 to 12 participants from fields across campus. The positive energy motivates attendees approaching the job search from different angles. Stated one student, "It helped push me to get out and network."
Attendees support each other and have great feedback. "At a recent workshop the keyword "leverage" was adapted in 5 profiles – humanities and sciences fields," said Denise DiRienzo, a LinkedIn presenter. "It was great to see the enthusiasm and how positive feedback really inspired great branding in the participants' profiles. "
Creating an Employer Ready LinkedIn Workshops are available monthly via Zoom.