Info on Internships for Grad Students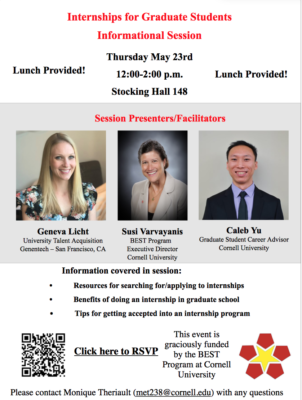 This student-initiated, BEST-supported event captured the attention of participants interested in internships during their doctoral studies. Monique Theriault (microbiology) organized the event and moderated the speakers, serving as the MC. She even tried her hand at a little impromptu acting! The process of standing in front of a friendly audience helped push her outside her comfort zone to practice her communication skills. The planning process helped her gain event management, marketing, and networking skills. The audience in turn learned about resources to search and apply for internships, deciding whether you need a traditional internship, and tips for navigating and creating a successful application.
Getting Started
A pre-event survey revealed a large number of participants are interested in applying for an internship but very few have an idea of where to look, and indicated being unsure about what resources are available to help. Caleb Yu, graduate student career advisor at Cornell, therefore kicked off the event with an overview of resources to search for organizations that offer internships. One in particular that resonated with international students is GoinGlobal. Of course there are many more resources on the Career Services website, and they offer individual appointments as well. To keep informed about job postings and other events, there is a newsletter to subscribe to.
Career Development Model
To develop your focus, it is important to understand your values, interests, strengths, and goals. To refine your plans it is useful to ask questions of people who do the jobs that you might be interested in. One more recent resource to learn, inform, and network for knowledge sharing is CUeLINKS. This new site allows you to ask specific questions about particular career pathways that can be answered by the online Cornell community and even allows participants to set up short sessions to meet virtually one-on-one. There are many resources for exploring career options before you take action to apply, and Career Services is at the ready in Barnes Hall to help you with your application materials, refine your resume and prepare for an interview.
What Do You Want to Get out of an Internship?
The majority of the pre-session survey respondents indicated that an end result of an internship should be to get a feel for how industry/policy/non-profit/government jobs work. The second goal of an internship is to learn hands-on skills used in the employment sector they want to go into. A third outcome is to make actual networks of connections outside of academia.
NextGen Ph.D.: Career Outcomes in the New Millenium
According to researcher Melanie Sinche, author of a book summarizing the responses of 8,099 Ph.D. graduates, a large number of transferrable skills are developed organically during the Ph.D. and postdoctoral training. Her question was, are these the same skills required for success in different occupations? It turns out that there are a few skill gaps, notably around time management, the ability to work on a team, and the ability to work with people outside the organization.
Flexible Internships
Internships of all durations and in a variety of locations can help you acquire these skills. Susi Varvayanis, executive director of Careers Beyond Academia/BEST in the Graduate School, shared some examples that might help participants consider the desired outcomes along with the constraints that might preclude a traditional 10-12 week summer internship given the time-intensive research needs of graduate students. Several examples highlight Ph.D.s and postdoctoral researchers who have successfully acquired skills through a five-10 hours a week internship in an on-campus entity to learn about the functions of a biosafety officer, technology transfer professional, or communications expert. Still others acquired skills needed through projects and activities they suggested themselves. She went on to give examples of how to approach your advisor if you are thinking about an internship. Read a recent article about how to get your advisor to say yes.
Genentech Opportunities
Geneva Licht, principal program manager, University Talent Acquisition at Genentech then gave an overview of the company's programs that hire interns and postdocs into Genentech Research and Early Development. The intern program includes opportunities for over 500 students a year. In research, about half are M.S. or Ph.D. students who engage in business critical projects as well as social events, a speaker series, and a poster showcase. She went on to describe in detail what Genentech looks for in applicants–including soft skills–and how to submit a stand-out application. Pro tip: go to their "Meet Our Scientists" page to find a good fit for a particular offering. You can also subscribe to Genentech's podcast "Two Scientists Walk into a Bar" to learn more.
Attendees Receive Slides from the Presentations
Those in attendance were regaled with the detailed slides that included all the weblinks mentioned, and additional details about Genentech's postdoc recruitment and selection process. Postdocs are expected to start soon, or within a few months of the application, and make up roughly 10 percent of Genentech's research population. They go on to a variety of careers in industry, academia, and others such as medical writing and business.