Innovation Immersion Informs Career Options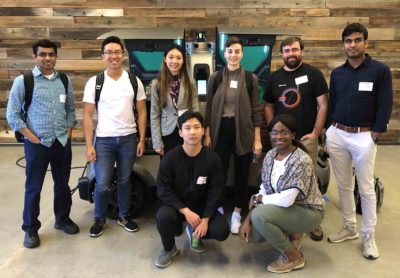 An immersion in careers in innovation informs Ph.D. students about many options. Experiential learning opportunities such as the Silicon Valley Entrepreneurship Trek, supported by the Office of the Vice Provost for Research, the College of Engineering, and Careers Beyond Academia/BEST in the Graduate School, help doctoral students make informed career choices.
This is the third time Michael Roach, the J. Thomas and Nancy W. Clark Assistant Professor of Entrepreneurship in the Charles H. Dyson School of Applied Economics and Management at Cornell's S.C. Johnson College of Business, had led the program.
Participants emanated from varied disciplines and fields, which resulted in interesting takes and perspectives on the experience.
Testimonials:
"The way the program was structured lent itself to a rapid learning curve. Through these meetings we learned about qualities shared among successful entrepreneurs: They believe whole heartedly in their projects and are able to convince others to share and invest in their visions. Each CEO described unique stories of perseverance that demonstrated their ability to problem-solve at multiple scales. One CEO of a medical device company put it: "In this job I use 120% of my brain." While PhD research moves the needle on field-specific academic discussions, researchers in SV articulated broader, material impacts for their work."–Natalie Nesvaderani, anthropology

"Beyond the brief meetings with the many incredible people on the Trek, nearly all of them have provided me with their contact information and LinkedIn connections and insist on following up if I ever need mentorship. Overall, the Trek was an incredible experience and I've made several real connections with founders located in the best place in the world for entrepreneurship. To say I highly recommend this Trek would be an understatement."–Jake Gemerek, mechanical and aerospace engineering

"I have become enamored with the idea of pursuing academia and entrepreneurship concurrently and participating in the BEST Silicon Valley Entrepreneurship Trek gave me a clearer idea of what this could look like and where I would start. I learned more about the entrepreneurial ecosystem in Silicon Valley, how academic research contributes to it, and how I can pursue a career in the intersection of these disciplines."–Chinasa Okolo, computer science

"The trek was an invaluable learning experience for students like me who have a passion for entrepreneurship. Prof. Michael Roach did a tremendous job of organizing and coordinating the trek."–Adarsh Ravi, electrical and computer engineering

"It was really inspiring to meet those entrepreneurs who were in the same position as us right now but took the courage to start something amazing."–Yuying (Sylvia) Zhang, biomedical engineering

"Overall, it was a highly boosting experience set towards preparing us for an entrepreneurial mindset."–Jashan Singhal electrical and computer engineering

"We've met people from various fields, including previous and current entrepreneurs, which helped me a lot to know more about the business and how to be a good entrepreneur in the future." — Runxi Shen, computational biology
Also participating was Martin Liu (food science).