Intersecting Identities Impact How Doctoral Students and Postdocs Feel About Career Prospects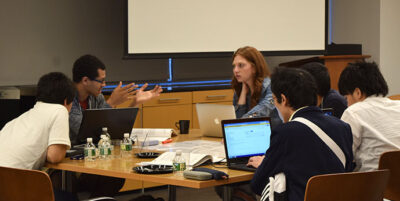 By Merry Buckley
When it comes to your future career, it's important that you feel empowered to explore your options and pursue your dreams. This feeling, called career self-efficacy, was the focus of a team of authors from universities across the country, who sought to find how graduate students' identities – including their gender, race, and seniority in their graduate programs or postdoctoral training – might be linked to how they feel about pursuing their career prospects.
"A study like this is peeling back the layers of intersectionality that affect people's ability to see themselves in different careers," said Susi Varvayanis, co-author and executive director of the Graduate School's Careers Beyond Academia initiative. "We want everybody to feel empowered to look into lots of different options for their career to find the best fit, customized to their needs."
The study team evaluated the relationship between intersectional identities and career self-efficacy in over 6,000 graduate and postdoctoral respondents across 17 NIH Broadening Experiences in Scientific Training (NIH-BEST) grantee institutions, including Cornell. These programs design and provide career exploration, skill-building and experiential training services to Ph.D. students and postdoctoral scholars.
Among the top findings of the study, those with career interests that extend beyond principal investigator positions reported lower career self-efficacy, suggesting that offering career training opportunities outside of the traditional academic research track could provide value to those who are interested in a broad array of careers. Women reported lower career self-efficacy than their male peers, which was not unexpected, said Varvayanis, given the results of previous research. Other results were more surprising, including the finding that students from underrepresented groups reported higher career self-efficacy than their peers. (Consistent with NIH guidelines current at the time the study was conceived, underrepresented groups are defined as identifying with one or more of the racial or ethnic categories Black/African American, Native Hawaiian or Pacific Islander, Native American, and/or Hispanic.) And junior-level respondents reported lower career-self efficacy than their senior peers.
By comparing these observations across groups, they investigated how multiple identities impacted students' career outlook. The greatest observed intersectional impact was found among junior women trainees from underrepresented groups. "I think about this every day," said Varvayanis. In working with students, she says, it's always important to consider how intersecting identities affect their ability to imagine themselves in different careers.
Comparisons between groups aside, Varvayanis says that in general, most students reported surprisingly low levels of career self-efficacy, considering that they are all enrolled in competitive doctoral programs and demonstrated a great deal of skill and knowledge to get where they are. To her, it's a sign that faculty mentors and staff like herself, who deliver career exploration and preparation programming, need to encourage trainees to feel more empowered and see the value in the skills they're developing that can easily be applied in an array of different careers.
The co-authors suggest that efficacy-building opportunities that include earlier career exploration and training, offering more mentoring opportunities, and creating positive feedback loops in doctoral training may offer ways to improve career self-efficacy broadly.
Looking ahead, Varvayanis says the group has undertaken another, parallel study to examine the impacts that intersecting identities might have on career self-efficacy in international students. The hope is that these evidence-based contributions to the literature will spur conversations about the postsecondary education experience to motivate inclusive practices and increased career self-efficacy.
Read the full PLOS ONE article:
Career self-efficacy disparities in underrepresented biomedical scientist trainees