Let's Talk Careers Outside of Academia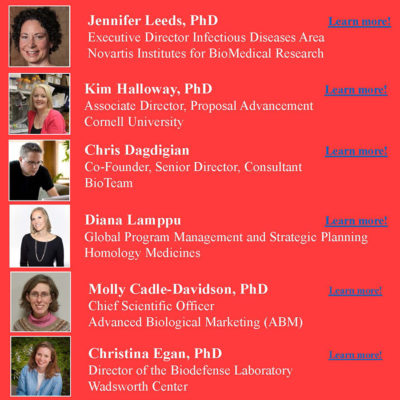 Student organizers planned every detail-from inviting speakers to logistics, funding and food. What resulted was an engaging string of presentations and informal discussions with speakers from a diversity of backgrounds who shared their candid advice, lessons learned, and day-to-day challenges and joys in their fulfilling careers.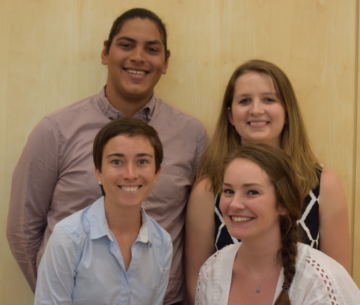 The August 10 event was the second in a two-part series to increase awareness of the variety of careers in and beyond academia among graduate students and postdocs across campus who are involved in research relating to microbiology.
Below are but a few lessons shared with PhD students and postdocs in attendance.
Jennifer Leeds is Executive Director in the Infectious Diseases Area at the Novartis Institutes for BioMedical Research. A Cornell alumna (BS  Microbiology '91), she is also a member of the President's Council of Cornell Women. Her main points:
grades are not everything
while in industry, she participated in 3 startups and 3 exits: an entrepreneurial mindset is important in industry, too
science communication is a massively underserved area
be opportunistic while being strategic in your career
Kim Holloway is the Associate Director of Proposal Advancement in Cornell's Office of Sponsored Programs. A Cornell postdoctoral alumna, she transferred her grant writing skills and passion to learn about grants and contracts before lending her skills to advance faculty proposals in areas of strategic importance to Cornell. Her takeaways?
go speak to people who have careers you are interested in
volunteer to write the first draft of publications, reports and grant proposals in your lab
work on your ability to communicate results to broad audiences
figure out what part of what you do that you really love, that turns you on
write, write, WRITE! and talk to people…oh, did she already say that?
Diana Lamppu is the Vice President and Head of Program and Alliance Management for Homology Medicines, Inc. and spent 5 years at Millenium in a project management role. She considers her "PhD" level experience was learned on the job for Critical Therapeutics in mechanism of action research after which she sought out a non-lab role. Six years at a global company overseeing the commercial launch of a late stage phase III product, focusing on business related opportunities helped cement her desire to work in a small company environment. Her advice:
know your gaps! seek out experience to develop your skills by taking on additional responsibilities
leverage your experiences to find your next 'inflection point' where you might shift to a new role
set your goals and find ways to achieve them
remember it really matters where and with whom you work: mentors, sponsors, environment and culture are key, as is an organization that values who you are
there are many options, and many different paths
critical thinking and good communication are the most important skills you should focus on
Participants in Careers Beyond Academia can create their own activity that will benefit career exploration and test-driving. Explore our webpages to learn more, and contact us at gradcareers@cornell.edu with your ideas!
This spotlight is from the time period of the NIH grant (Sept. 2013- Jun. 2019) to the Cornell BEST Program now housed in the Graduate School as a university-wide initiative "Careers Beyond Academia" to encompass all disciplines.