Spotlight: Éilís Monahan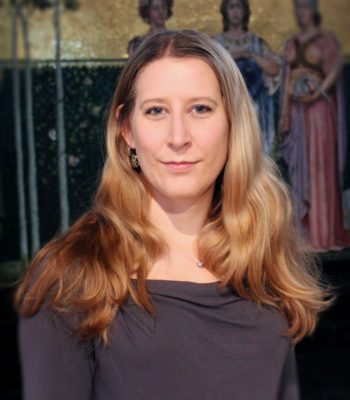 "Knowing that academic employment posts for archaeologists are few and far between and not being certain that I would find them personally satisfying, I wanted to see what other opportunities were out there that would be intellectually challenging and would allow me to see my work have real impact."
Éilís is a PhD student in Archeology in the Department of Near Eastern Studies, and is affiliated with the Cornell Institute of Archaeology and Material Studies.(Left is an image of Éilís visiting the ruins of the Iron Age palace at Vouni)
What topic is your PhD work focused on?
I study the development of sociopolitical complexity, and my research is focused on Cyprus during the Bronze Age. My dissertation explores the role that warfare and specifically fortresses, as the first monumental architecture on Cyprus and as components of a disciplinary apparatus, play in transforming social relations creating a situation where some people are able to seize power and access to resources.
What made you interested in exploring careers outside of academia?
I love my field, and I'm sure I'll always stayed involved in it in some way, but I realized during the year I spent abroad completing the fieldwork for my dissertation that what I most enjoyed about archaeology was working collaboratively on teams and the excitement of discovery and engaged problem solving. Knowing that academic employment posts for archaeologists are few and far between and not being certain that I would find them personally satisfying, I wanted to see what other opportunities were out there that would be intellectually challenging and would allow me to see my work have real impact.
What BEST activities have you been most involved in and what value did you get from them?
My involvement with BEST has primarily been through my role as the (re)founder and co-president of the Cornell Graduate Consulting Club. When I decided that strategy and management consulting was an area I wanted to explore more in depth, I learned that the graduate consulting club on campus was no longer operating. Suzi Varvayanis and the BEST Program were really instrumental in the relaunch of the club, and BEST has been a great resource, helping us reach out to other graduate students who might be interested in consulting careers and supporting our event planning.
What are your current career goals? Any plans for what's next now that you're graduating?
I want to pursue a career in strategy consulting – I love that many of the firms let you start as a generalist so you can gain experience with different industries and different aspects of business, and the opportunities to travel and work with other passionate people on interesting problems is just what I'm looking for. Other than applying for jobs and preparing for interviews, I have a couple papers I want to submit for publication, and I'm planning an extended backpacking trip in the Sierras with my husband. Finishing my dissertation has kept me from thinking much beyond that yet!
What do you like to do in your free time to relax?
I absolutely love being outdoors – hiking, camping, or being out on the water! But when the weather isn't great, I also love playing tabletop games with friends or watching the latest great sci-fi/fantasy tv shows. If you see me, please don't spoil the Battle of Winterfell – I'm a full season behind on Game of Thrones!
by Cassi Wattenburger
This spotlight is from the time period of the NIH grant (Sept. 2013- Jun. 2019) to the Cornell BEST Program. As a result of the success of the grant funded period, Cornell University transformed BEST into a university-wide initiative "Careers Beyond Academia/BEST" to encompass all disciplines, and is now housed in the Graduate School.