Navigating a Post-PhD Professional Life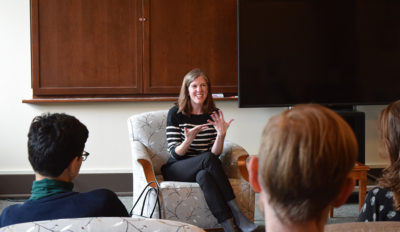 Rebecca Colesworthy, PhD '09 English, spoke to doctoral students and postdocs in the English department about transitioning into a career beyond academia. Invited through support via Careers Beyond Academia faculty funding, she embarked in a frank discussion about her pathway seeking to dispel the myth that you accept a job and stay there forever. "For any career transition you have to do what we are so good at – research. Careers are a messy process," said Colesworthy. "I did a cost benefit analysis (teaching, grading and service as an adjunct) so I could maintain access to library resources to focus on what I loved – writing." To make ends meet, Colesworthy took a job in development, which she thought would be horrible but wasn't. "I loved the interpersonal aspects, and donors are not that different from academics!" she said.
The alumna spoke to a crowd of about 20 on "Navigating a Post-PhD Professional Life: not quite in academia" with words of encouragement and practical advice: Stay in touch with people from all your institutions, seek informational interviews with everyone you can, be open to all opportunities as skills are transferrable and you may find your niche where you least expect it. She recommended Idealist.org for exploring career options. "Via a woman I met at yoga I made a connection to SUNY and soon thereafter found my current position," she added for an example of her informal networking process. "The smartest thing I unintentionally did was keep up with people I know."
Colesworthy's closing remarks stressed that students should ask for help, look at specific jobs and tasks you love and explore opportunities. "Think too big, think too small-other fields have their own processes and credentials. Think more broadly: for instance acquisitions, indexing, marketing…and there's so much variation even in publishing! If you look at specific jobs and match the tasks you enjoy, then you start to see how you match up with a specific job description." Before the extensive question and answer period (where faculty were excused to encourage more open discussion) she closed with a last nugget of advice: "Grad school doesn't teach you to ask for help. But you have to do a lot of research to find out what you need help for!"
A meeting she had years ago with the Director of the Office of Postdoctoral Studies stuck with her: "Christine Holmes told me most people go through six different career transitions." Rebecca Colesworthy is currently working as Acquisitions Editor at SUNY Press where she oversees c19-c21 studies, gender and queer studies, Latin American and LatinX studies and education.
Supported by a Careers Beyond Academia Humanities faculty mini-grant.