Navigating Your Future in Industry, Entrepreneurship & Management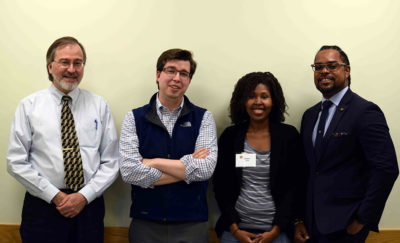 Careers in Industry, Entrepreneurship & Management were addressed at a lively panel discussion on November 7. The purpose of these panel discussions is to increase awareness of the types of careers for PhDs, to network with professionals in the field, to begin to imagine the possibilities and the day-to-day work, and learn first hand what is looked for in candidates for positions suited to doctoral graduates.
Careers Beyond Academia/BEST encourages grad students and postdocs interested in learning about a particular field to participate at an involvement level with which they are comfortable. One can simply attend and network, suggest speakers, organize a panel discussion or perhaps even moderate the panel discussion. Inspired by a colleague who had organized a panel discussion, PhD student in Immunology and Infectious Disease, Jessica Elmore followed her passion for learning more about careers in industry and chose to do it all. One benefit is that she has now networked professionally with over a dozen Cornell alumni who have careers she is interested in, by having corresponded with and invited many who were interested but unavailable for the date chosen to hold the event. She has also learned what goes on behind the scenes to prepare panelists for an informative discussion, collected questions from her peers, and has successfully added event and program management skills to her resume.
The invited alumni speakers hail from small and large companies as well as from academia. Chavez Carter is a medical science liaison with LEO Pharma, Kent Goklen is a biotechnology professional at GlaxoSmithKline, and Greg Ray is Senior Associate Director at Creative Destruction Lab at NYU's Stern School of Business. They shared their career stories and advice as Elmore moderated questions collected in advance and live from the audience.
The audience was interested in what sparked their interest in a career outside of academia. Each speaker had a different take, including traits they had as children such as 'tinkerer', activities they cherished as students such as journal club, and the fact that 'aspirations grow through exposure.' Other questions included topics such as actual work hours–which prompted speakers to redirect the discussion to 'work-life integration' and time vs. effectiveness. When asked what makes them want to work every day each of the speakers simultaneously chimed "I love what I do!"
Other questions focused on how related their work is to their PhD and what makes an attractive candidate. Chavez Carter emphasized not saying at an interview that since you don't think you want to go into academia that industry is for you. "Nobody wants to be the second person you ask to the prom!" Discussion followed on the speakers' varied take on whether a postdoc is necessary or not for PhDs to enter the industrial careers of their dreams.
Attendees, who came from over 15 graduate fields and departments, cited the most important thing they learned from the session in a post-even feedback survey: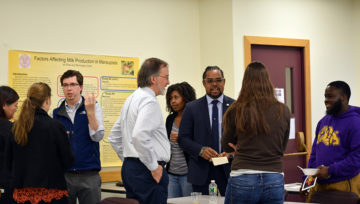 "Cornell resources and the process the panelists used to break into industry." (Biomedical Engineering)

[the importance of] "Networking." (Microbiology)

"Skills for graduating. PhD's preparation." (Animal Science)

"How to build my resume so that I am a competitive applicant for industry positions (communication skills). Nice variety of speakers and their experience." (Genetics, Genomics, and Development)

"The importance of being able to discuss science across fields. Pull key skills out of research project to help you reach future goals." (Immunology/Infectious Disease)

"My lack of communication or leadership training. I know now what I should do to improve my chances." (Virology)

"A few interesting topics about industry." (unspecified field)

"Multiple options/questions." (Microbiology)

"The importance of making your own narrative." (BBS)

"Building a narrative." (Atmospheric Science)

"Thoughts of finding a job for PhDs." (Physics)

"One should plan on their future when going into graduate education." (Undergraduate)

"Consulting." (Microbiology and Immunology)

"Reasons people went into industry research." (Animal Science)
This spotlight is from the time period of the NIH grant (Sept. 2013- Jun. 2019) to the Cornell BEST Program now housed in the Graduate School as a university-wide initiative "Careers Beyond Academia" to encompass all disciplines.