Non-Academic Career Symposium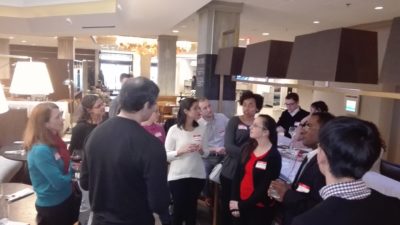 Twenty-six doctoral students travelled to Washington, D.C. to explore careers in government, attend panels with alumni involved in a range of disciplines and non-academic employment sectors, and participate in various networking events. Participants who took part in the non-academic careers symposium emanated from STEM fields, humanities, and social sciences.
Networking with Cornell alumni, along with informational interviews, helped participants explore the details of what it would be like to work in various sectors of government, non-profits, small businesses, and industry, to rule in or out if that career pathway was for them. In addition the practice of describing their research, among peers and with mentors, helped them tailor their summary of work to various audiences.
The Non-Academic Career Explorations symposium was made possible by an Alumni Engagement Grant from the Office of the Provost and by support from Cornell BEST (prior to becoming Careers Beyond Academia), and was organized by Cornell and Georgetown University staff.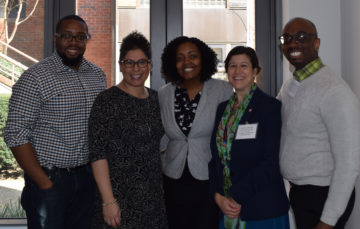 Most useful knowledge gained:
"Networking opportunities with people in positions I want to pursue. I had the chance to get advice from Cornell grads and also make connections with people in careers I am interested in. Learning how to improve my research 'pitch', and in general how to speak about my skill set."
"I learned how to do an informational interview. I had never done one before this trip, and I absolutely loved doing them with other like-minded STEM Ph.D.s that have transitioned into non-academic careers."

"I started thinking more concretely about developing more examples of things I am doing during my Ph.D. that demonstrate not just interest, but experience in the areas that I am interested in pursuing a career in. For example, I have begun pursuing opportunities for science communication experiences that I can undertake before graduating." 
"The two most substantial things I gained through this program were professional connections both in D.C. and at Cornell, and a stronger sense of how to start talking about what I can do professionally to other people in the 'real world.'" 
"Clearer understanding of the relationship between academe and government in terms of applying my skills to the policy-making process. I was able to significantly expand my network beyond its previous state, which has already led to the potential to participate in additional informational interviews in the coming months." 
"Interacting with Cornell alumni helped me see potential career pathways away from academia that could fit my research interests. Also, all the activities facilitated networking between the participants and the alumni in a safe and relaxed environment. That environment helped us share ideas, expectations but also built a network of peers." 
"I thought the presentation by HHS recruiters was very valuable. I learned how to craft a federal resume, gained more insight into how to effectively use USAJobs.gov, and I had the opportunity to ask the recruiters personal questions after the presentation. I had a very helpful informational interview that I probably wouldn't have scheduled had I not participated in this program."
Caleb C. McKinney, Ph.D., Assistant Director, Career Strategy & Professional Development, Georgetown University shared with us the federal resume resources presented at the Career Options Symposium: Health and Human Services Presentation. Contact us to have us send the PDF document. The event took place on March 13-15, and was organized by the Graduate School in partnership with the BEST Program (prior to its transition to Careers Beyond Academia) and Georgetown University.