Science Careers Outside of Academia as part of a Researcher's Toolkit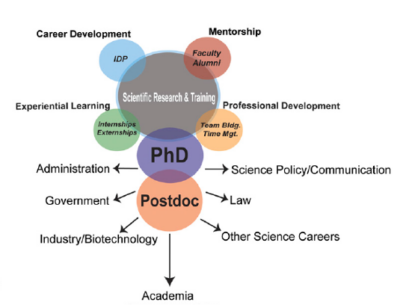 As part of an immersion program for maximizing science research success hosted by the Engineering, Physical & Life Sciences libraries, the module on science careers outside of academia helped participants learn about the many possibilities where PhD graduates find fulfilling careers, what employers look for, and how to prepare now to stand out as a candidate.
At the end of the interactive presentation, participants were able to name at least five career possibilities where PhD-level scientists thrive and flourish. They practiced honing their self-introductions via a core message by distilling it down to a short, memorable phrase they can use at conferences and other networking situations. Participants then learned at least three things they can currently do to increase their chances of getting hired. The top tool cited was the LibGuide on Careers Beyond Academia developed in partnership with the Management Library.
Best practices include incorporating professional development, career development and experiential learning during the PhD to enhance the technical and operational skills acquired during scientific research and training for a doctoral degree. Using introspection, reflection, preparation and exploration into multiple career pathways, students can maximize their time and strategically participate in activities to help make informed career decisions and even streamline the job application process. Tips were shared on how to approach your advisor, how to reframe your skills from an employer's perspective and how to dissect a job ad. The discussion closed with several tools for networking and suggested next steps on how to tune up their career plan.
The Researcher's Toolkit: Essential Skills for Cornell Graduate Students in the Sciences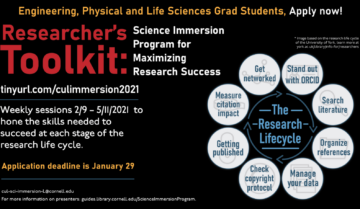 The Researcher's Toolkit is also known as the Engineering, Physical & Life Sciences Graduate Immersion Program.  This annual program is now in its fifth year and is coordinated by Kate Ghezzi-Kopel and Jim Morris-Knower from Mann Library, Henrik Spoon (Math & Physical Sciences libraries), and Jill Powell (Engineering library). A cohort was selected to participate in the 12 modules designed by these experts and invited speakers.
Now online, the modules include tips and tools for writing an abstract, creating effective presentations, grant writing, measuring and maximizing research impact, data management, power literature searching, copyright and author rights, open access, reproducibility as well as challenges and needs of international students. Careers Beyond Academia was pleased to present the module on Science Careers Outside of Academia.