So You Want To Work At The Library Recap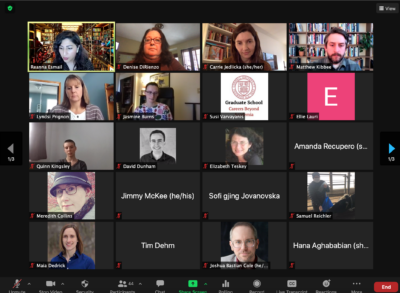 Jasmine Burns, visual resources metadata librarian at Cornell University Library; Carrie Jedlicka, clinical medical librarian at the Samuel J. Wood Library and C.V. Starr Biomedical Information Center at Weill Cornell Medicine; Matthew Kibbee, reference and information assistant at Mann Library at Cornell University; and Lyndsi Prignon, director of human resources for Cornell University Library and Cornell University Press shared tips on the broad range of jobs in libraries and tips on transferrable skills.
Transferrable skills are key: interpersonal skills, organizational skills, demonstrated evidence of collaboration, written communication skills, and masters/PhD. Your degree does not have to be in library science. Subject matter expertise in other research areas welcomed.
Research skills and knowing how to function in a library can give you an advantage as a candidate. Your degree gives you an introduction to research design, particularly knowledge in how to conduct literature searches and use databases.
Customer service and experience interacting with community members is where some panelists had a learning curve. Think about volunteer or other job experiences where you can build those skills.
Professional organizations are useful for those pursuing a career in libraries. These organizations may help you learn the lingo, explore job openings and network with others in the field. Professional Organizations include: Medical Library Association, American Library Association, New York Library Association,  Empire State Library Association, South Central Regional Library Association,
Steps to transition to library positions include gaining as much experience as possible, reaching out to the library liaison in your field to start a conversation, attend panels such as today's, intern, or volunteer at a library or adjacent position.