Spotlight: Michael McCoy PhD'19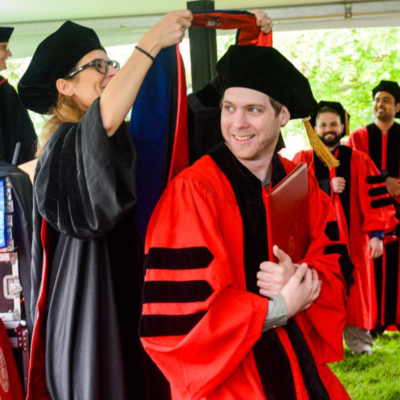 "The best part about participating– for me was actually meeting all the people who had similar interest intersections to myself, talking with them and asking questions about how they managed to get their careers on track."
Why did you decide to explore non-academic careers?
I began to explore non-academic careers in the beginning of my fourth year of my Ph.D. and set up a meeting with Susi. I was put into contact with her by way of my PI, Claudia Fischbach, as I had begun to explore the options of stepping outside of academia to do work. I had decided this as, during my Ph.D., it became more obvious to me that I was less and less interested in tenure-track positions at universities and was curious about how I could use my degree to have a career that was outside of academia.
Which BEST-related activities were most helpful to you?
There are many activities that were useful, including many talks that were given by industry and government individuals that demonstrated that value of having a Ph.D. and the contributions that you can make. Importantly, there are many science communication and policy courses that are supported by the BEST program that really help scientists break out of the speaking in jargon mold. These were incredibly useful in helping me not only be an active participant in the community but also helped me communicate with scientists outside of my field – something that was helpful for me as although I currently work in a similar area of research, the department and techniques used are completely different. Overall, I would say that events that focused on developing the ability to communicate and demonstrate your value as a scientist were the most successful as its not something that you traditionally get to do in your day-to-day life in the lab.
What was your favorite part about participating in BEST?
The best part about participating in the BEST program for me was actually meeting all the people who had similar interest intersections to myself, talking with them and asking questions about how they managed to get their careers on track. At most academic conferences or talks, you're always talking to scientists who are tenure tracked or who plan on becoming that. BEST gave me the opportunity to talk with a bunch of different people and find out what they do and how they managed to break out of that. It was a very rewarding experience to see someone who has the exact same career that I would want and to be able to ask them how I can go about accomplishing the similar steps in career development that they have had.
Next steps?
After his current postdoc, Michael sees himself going in one of two directions; continuing research in private or industrial institutions, or applying for science-related positions within the executive branch of the federal government. Best of luck to him wherever he may land!
Michael graduated with a Ph.D. in Biomedical Engineering. Now he's a postdoc at the Cleveland Clinic in the Department of Neuroscience where he studies how endothelial (skin) cells help heal wounds.
by Cassi Wattenburger
This spotlight is from the time period of the NIH grant (Sept. 2013- Jun. 2019) to the Cornell BEST Program now housed in the Graduate School as a university-wide initiative "Careers Beyond Academia" to encompass all disciplines.