Spotlight: Tiffany St. Bernard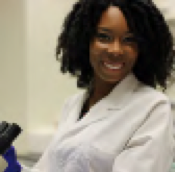 Leadership experience, academic dedication and a commitment to the Cornell community are some of the defining characteristics of Tiffany St. Bernard. Highly involved in entrepreneurial ventures, she has already had experience as a CEO and a start-up founder. And many issues that have come along the way. Naturally motivated by her entrepreneurial endeavors, Tiffany's research as a student is focused on the development of medical technology, specifically ultrasonics. Beyond commercialization of medical technology, Tiffany has also developed an impressive portfolio as a student leader, working for organizations such as the Graduate Professional Student Assembly and Office of Inclusion and Student Engagement (OISE). As a result of all this work, she has developed a better understanding and appreciation for time management and giving oneself personal goals. Not to mention having a stellar reputation in the Cornell community.
Tiffany St. Bernard is a Ph.D. student in the Amit Lal laboratory, while simultaneously leading her own start-up (Hairdays) and a program manager at Blackstone LaunchPad.
By Victor Aguilar
This spotlight is from the time period of the NIH grant (Sept. 2013- Jun. 2019) to the Cornell BEST Program, now a university-wide initiative that encompasses all disciplines, housed in the Graduate School and rebranded as "Careers Beyond Academia" .