Think flexibly about an internship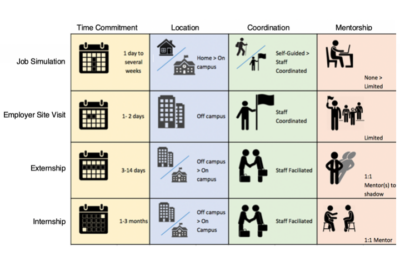 Experiential learning is an effective educational tool across many academic disciplines, including career development. We're  rethinking and expanding the training of predoctoral graduate students and postdoctoral scholars to include experiential learning opportunities. A newly published article, resulting from collaboration across nine institutions across the USA, provides an overview of four types of experiential learning approaches, compares the learning objectives, and offers evaluation strategies for each type. We also discuss key factors for shaping experiential learning activities on an institutional level. This framework can help organizations (and individuals) determine which form of experiential learning for career training might best suit their goals.
In this article, we describe the range of experiential learning approaches our institutions offer and classify them into four types: job simulations, employer site visits, job shadowing, and internships. We compare the structure, duration, resource requirements, learning objectives, and assessment strategies employed for each type.
At Cornell, many of these activities take the form of individualized experiences aimed at meeting your specific needs. A key element of these experiences is that you are empowered to make them your own, often for the benefit of many others. These activities can take the form of job simulations, employer site visits, shadowing, or internships. Sometimes activities to explore a career option fall into several of these categories. Increasingly, alumni from the Careers Beyond Academia Program are sharing and working with us to co-create opportunities, too!
To access the full article.
Title: Applying Experiential Learning to Career Development Training for Biomedical Graduate Students and Postdocs: Perspectives on Program Development and Design
Authors: AV Wart, TC O'Brien, S Varvayanis, J Alder, J Greenier, RL Layton, CA Stayart, I Wefes, and AE Brady
Affiliations: Virginia Tech, UCSF, Cornell, Rutgers, UCDavis, UNC Chapel Hill, UChicago, UColorado Denver–Anschutz, Vanderbilt