Tips and Takeaways for Career Success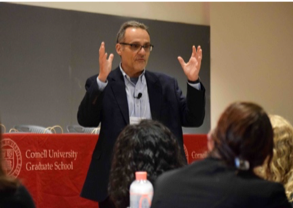 On June 6, graduate students and postdocs flooded Biotech to explore career options and gain advice from practitioners at our annual professional development symposium. If you missed it, read the salient reasons why they attended, who shared advice (hint: a dozen are alumni*!) and what those nuggets are.
Why attend the Pathways to Success and 5th annual BEST Symposium?
To build skills
develop an entrepreneurial mindset
build transferrable skills for your future career
engage the public via social media
To prepare for your career
in government and related non-governmental organizations
in consulting and industry
navigate employment as an international candidate
build and maintain professional networks
Who shared career advice?
Twenty speakers (most are alumni*) from academia, government, non-governmental organizations, consulting, law, pharmaceutical and biotechnology industries, and professional societies shared their career insights, their choices, day-to-day work and challenges, along with advice for current trainees.  Three engaging panels covered a myriad of topics.
Exploring Careers in Government and Related Non-governmental Organizations
Moderator: *Sara Hernandez, MRP'05, Associate Dean for Inclusion and Student Engagement
Panelists:
*Robert Herman, PhD'94, Vice President for International Programs, Freedom House
*Freeha Fatima, PhD'12, Economist, World Bank Group
*Christopher Blackwood, PhD'14, Research Scientist, National Institutes of Health (NIH): Intramural Research Program (IRP)
*April Melvin, PhD'12, Program Officer at The National Academies of Sciences, Engineering, and Medicine
Navigating Employment as an International Candidate
Moderator: Gaeun Seo, Graduate & International Student Advisor, Career Services
Panelists:
*Sarah Hilsman '84, Associate Director, Cornell Global Learning
*David Wilks, JD, Employment & Immigration Law, Miller Mayer LLP
 Nate Lindberg, Cornell English Language Support Office
Exploring Careers in Consulting and Industry
Moderator: *Randy L. Allen '68, Senior Lecturer at the Johnson College of Business
Panelists:
*Patrick Sturges, MS, CCRP, Clinical Project Leader, Sanofi
*Elysa Goldberg, PhD'07, JD, Associate Director/ Patent Attorney, Regeneron
*Carole Harbison, DVM'11, PhD'11, DACVP, Senior Scientist II, Takeda Pharmaceuticals & Alnylam
*Corissa Lee, PhD, Manager, Exponent
 Yan Kou, PhD, Director of Product, Insight Data Science (Bioinformatics)
What were some takeaways?
Developing an Entrepreneurial Mindset
Engaging the Public via Social Media
Exploring Careers in Consulting and Industry
An additional resource highlighted: National Association of Colleges and Employers: Working with International Students
Closing remarks were given by *Avery August, Principal Investigator of the BEST Program NIH grant, Vice Provost for Academic Affairs and Professor of Immunology at Cornell.
At the AAAS pre-symposium workshop Gemima Philippe from AAAS touched on the topic of Engaging with Policymakers. Here is a summary by Elizabeth Mahood: How to Change Public Policy Through Research Communication
Who was there?
Registrants hailed from 17 social sciences and humanities fields, 43 STEM fields, and five institutes and programs across campus. Fully a third are first generation college students and 42% international, with 39% male. The majority were doctoral students (71%) but there were many postdocs (14%), research masters students (7%) and professional degree students (4%). Half a dozen staff were also there to answer questions and help make participants feel welcome.
Who made it happen?
The Pathways to Success and 5th annual BEST Symposium was collaboratively organized by the Graduate School, Broadening Experiences in Scientific Training (BEST), the Center for the Integration of Research, Teaching and Learning (CU-CIRTL), the English Language Support Office (ELSO), Career Services and the Office of Postdoctoral Studies.
This spotlight is from the time period of the NIH grant (Sept. 2013- Jun. 2019) to the Cornell BEST Program now housed in the Graduate School as a university-wide initiative "Careers Beyond Academia" to encompass all disciplines.