Tips for a Memorable 5-Minute Research Presentation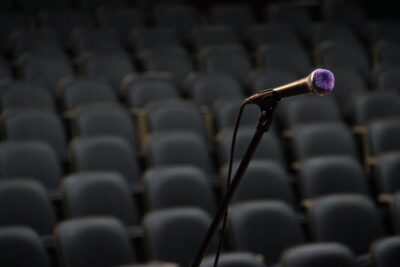 "If you get the first 5 minutes down, you are going to be golden for the rest of your presentation." These were the words Susi Varvayanis, Executive Director of Careers Beyond Academia, stated at the start of Tips for a Memorable 5-Minute Research Presentation.
To help alleviate the stress and worries of making a good presentation, please review a summary of some amazing tips. There are three parts of a presentation that can influence the outcome of the presentation.
You, the speaker
Your presentation slides
The audience
How do you as the speaker prepare yourself for the best presentation?
Be aware of your body language – gestures are important, and they underscore the importance of the message we pass across. Add a smile! Be enthusiastic and make eye contact with the audience. These contribute to the appearance of confidence as you present.
Practice voice modulations – the way you speak can convey a lot about the information you are passing. Avoid going too fast. Add pauses as you speak, slow your speech, and emphasize key words.
Avoid jargon and acronyms – According to the dictionary, jargon is defined as special words or expressions that are used by a particular profession or groups and is difficult for others to understand. So, avoid them! Especially since some words can convey different connotations for different audiences. So, if I don't use jargon, what should I use? How do I still convey my point? Try a different word, or use an analogy.
What makes for good presentation slides?
Good illustrations – make use of simplified images that pass across the information that you are presenting. Simple cartoon illustrations make it easy for the audience, regardless of background, to understand and follow the meanings.
Data presentation – avoid using excel defaults. Replace topics and labels with easier to understand headings that communicate your main point. Also, simplify images by removing unnecessary sections that do not apply to your audience. Most importantly, lead the audience through your work with all its ups and downs.
How does the audience affect your presentation?
The audience that you have dictates how you present your information. To prepare for your presentation, evaluate your audience. Understand the hook and make them care. Find unifying interests or commonality among the audience. Understand the goals and issues that challenge the audience. Do your images intrigue the audience?
Here is what makes your 5-minute pitch memorable:
It is passionate – This comes with understanding what inspires your work. Passion for research leads you to excel, even when you suffer setbacks.
It tells a good story – when you have a flow with compelling images, it helps tell a story, saves explanation, and hooks the audience.
It gives a 'why' – from your presentation, the audience should know why they should care about your work, the implications of your results and how they can apply this information.
Here are some resources that you can explore to help you with a great presentation:
We would love to hear your own opinions and tips on what you feel gives a good presentation!