Tips for Getting Your Foot in the Door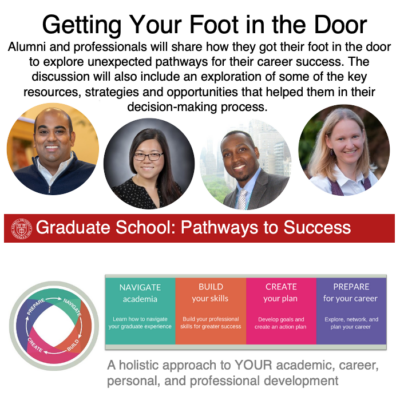 Top 3 takeaways:
Do your research – make sure your lingo aligns with the job ad and you align with the culture- this preparation and research for the role can set you apart as a candidate

"Turn up the volume on the skills and experiences the employer is looking for and less on the minute details of your PhD research."

Gain experiences that match the job/industry-this can lead to confidence and comfort in the role and set you apart as a candidate
Be flexible – show how you can fit into the role and learn on the job

"We're in the age of remote work so there are no limitations where you can go!"
Wisler Charles stressed how creating and leading panels through Careers Beyond Academia and getting involved in business development helped him become comfortable with public speaking and fitting in industry. For instance, by connecting with Life Changing Labs he served as a consultant for a startup on the side during his PhD to hone his communication skills, present insights and translate these to business decisions. Ezen Choo chimed in that she only discovered later how the business acumen she developed by taking certain short courses and workshops while at Cornell helped her make decisions, negotiate with colleagues, and set priorities based on the company's bottom line: making a profit. The Coleman Leadership Program helped her with teamwork and conflict resolution which are valued and in high demand in industry. Vivek Ashok agreed that by seeking out classes where he had team mates from different disciplines doing a masters degree, he complemented his skillset by expanding his knowledge of how his political science public opinion statistics can be translated to data science roles.
All the panelists agreed on the importance of networking to create name recognition and make connections. Ronda Hamm gave the example of talking with organizers of a professional society meeting that resulted in the creation of a symposium on outreach. She added, "And remember an invitation to lunch at a conference should be viewed as an informal interview. Have your resume and LinkedIn profile ready to go." The panelists suggested informational interviews are a great way to get a sense of what people do on a day-to-day basis and learn about the culture. They encouraged participants to reach out, especially to Cornell alumni who are eager to help.
Other tips from the panelists on getting your foot in the door to think about:
What position do you want? Look at the job description and how your story/skills fit in; be wary of positions that will pigeon hole you into doing just one thing (unless that's what you want)
If you can't do an internship, get other experiences at Cornell: through clubs, panels, short term experiences like organizing a big event, collaborative work; show interest and seek out classes and more practical exposure before you leave
Transferrable skills: weave your skills into a story of how you can accomplish the job and fit the culture– how you can quickly become an expert, summarize the value of your research skills, ask good questions, plan empirical studies, then problem solve
If you don't have the skills for a job that interests you, work an adjacent job; then for the next interview show how you interacted with that department and gained the skills
If you don't have specific skills don't hesitate to flip the script. Ask yourself, am I willing to learn? Soul search. You can learn on the job so if you are willing, that is an option, since the panelists all admitted to learning most of the skills they currently use while on the job
Everyone stressed that it would be your first job, that you are working and improving and moving forward from there-this is a lifelong pursuit
Misconceptions and panelist notes:
I can't publish, teach or work with academia if I go into industry
you can often adjunct or guest lecture at nearby universities and colleges
research companies to find those who do, or create opportunities for collaboration
I will do rote work in industry
you're constantly learning in industry. I apply and bring back knowledge to my company; I get to have intellectual conversations with R&D. Every day is different.
Industry won't provide intellectual stimulation
industry ramps up quicker so it is intellectually stimulating
I feel like I'm learning more now than when in training, there are new challenges to distill my work and inform different audiences
I need an MBA to be successful in industry
most MBA programs require significant work experience for acceptance
wait and see what skills are needed, and remember the company you work for may pay for additional training
About the speakers
This panel discussion with alumni and other professionals shared how they got their foot in the door to explore unexpected pathways for their career success. It included an exploration of some of the key resources, strategies, and opportunities that helped them in their decision-making processes. Reach out to the speakers to network with those who can share insights to help your future!