Building Backwards to Biotech-Driving Cutting Edge Science to Market
November 18, 2022 @ 3:30 pm

-

5:00 pm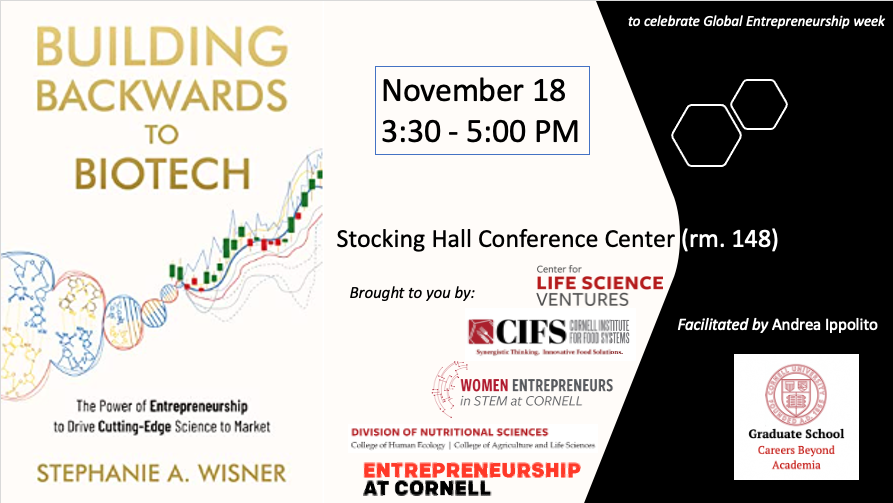 Ever wondered how research makes it out of the lab and to patients? Start-ups, entrepreneurship, and biotechnology are proven methods for bringing novel science off the bench and to the market, where they have the potential to impact real people's health and lives for the better. Alumna Stephanie Wisner (A&S '16 Chemistry) will share her findings from industry experts recently published in her new book, Building Backwards to Biotech: The Power of Entrepreneurship to Drive Cutting Edge Science to Market. Wisner will share about her career path from scientist to biotech cofounder, as well as the methods you need to understand in order to start your own start-up or understand the exciting emerging industry of biotech. Bring your questions, and get a chance to win a free book, signed by the author. Let's Celebrate Global Entrepreneurship Week together!
Register online for this event.
About the speaker, Stephanie A. Wisner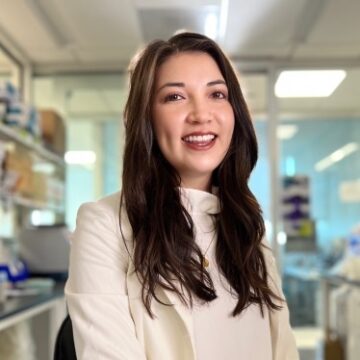 Stephanie A. Wisner '16 co-founded the biotech start-up, Centivax, where she is now Chief Business Officer. She has also advised multiple biotech start-ups on business and commercialization strategy through her consulting business, BioVenture Advising LLC. In 2022, she was named to the Forbes 30 Under 30 list for Healthcare. She completed her MBA at the University of Chicago Booth School of Business, with concentrations in finance, accounting, and entrepreneurship. She received her Bachelor's Degree in chemistry and chemical biology from Cornell University and was awarded the Einhorn Discovery Research Grant for her independent research on cancer. Her first book, Building Backwards to Biotech: The Power of Entrepreneurship to Bring Cutting-Edge Science to Market, was named an Amazon New Release Best-seller in Biotechnology. While she no longer gets as much time in the lab, she enjoys the travel and continuous learning this career involves.
Listen to her recent interview with Startup Cornell Podcast-episode 11
About the book, Building Backwards to Biotech
Ever wonder how medicines and vaccines enter the marketplace? Why they are so expensive? Most people have heard about Theranos, a story of failure: how do biotechnology start-ups actually succeed?
In Building Backwards to Biotech, author Stephanie A. Wisner demystifies the subjects of biotechnology, start-ups, and finance to answer these questions. Wisner unlocks the secrets of how to build a biotech company successfully by keeping one process always in mind: Building Backwards. In this book you will understand the concept of Building Backwards and how it can:
Increase your chances of starting a "winning" company
Inform capital raising
Lead to a strong clinical and scientific strategy
Mitigate business and scientific risk from the outset
Wisner believes in the power of entrepreneurship to drive cutting-edge science to market successfully and its ability to help people suffering with diseases currently considered untreatable. She believes good science combined with innovative business practices has the power to literally save and enrich lives. Building Backwards to Biotech will make it easier for interested individuals to bring this kind of work to a waiting world.
About the facilitator
Andrea Ippolito Is a Lecturer in the College of Engineering and SC Johnson College of Business, having taught Product Management, Entrepreneurship for Engineers and Scientists, and Managing a Culture of Innovation. She has testified in front of the U.S. House of Representatives Committee on Small Business to share policy recommendations to push for additional support for diverse innovators in America. She currently serves as the CEO and Founder of SimpliFed. Previously, Andrea served as the Director of the Department of Veterans Affairs (VA) Innovators Network within the VA Center for Innovation where she designed and oversaw the creation of a $10.5M program that provides the tools and resources to VA employees to develop innovations. Prior to that role, Andrea served as a Presidential Innovation Fellow based out of the White House Office of Science and Technology Policy and General Services Administration. Ms. Ippolito completed her MS in Engineering & Management at MIT after working as a Research Scientist within the Corporate Technology Development group at Boston Scientific. She holds a BS in Biological Engineering '06 and MEng in Biomedical Engineering '07 from Cornell University.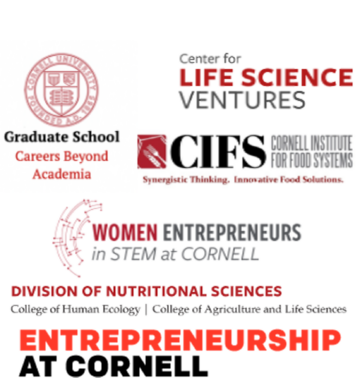 Hosted in partnership with
Women Entrepreneurs in STEM at Cornell (W.E. Cornell)
Center for Regional Economic Advancement (CREA)
Cornell Institute for Food Systems (CIFS)
Cornell Division of Nutritional Sciences
Center for Life Science Ventures
Entrepreneurship at Cornell
Careers Beyond Academia
Related Events