Innovation & Entrepreneurship Workshop: Developing Entrepreneurial Mindset
August 30 @ 11:45 am

-

1:00 pm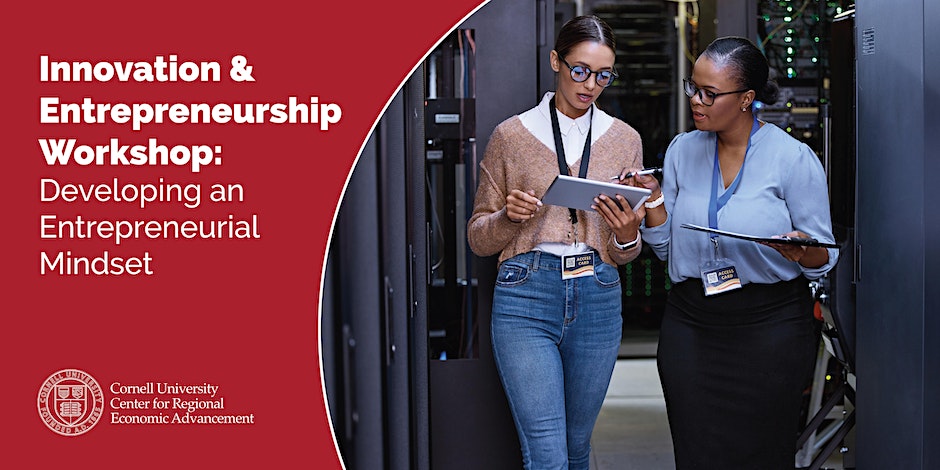 Learn how to think like a successful startup founder in this introductory workshop. You'll find out from the experts what it takes to launch a startup that solves real-world problems and addresses customers' needs.
Ken Rother, director of Rev: Ithaca Startup Works and eLab, will lead the workshop and moderate a panel with Stephanie Wisner, co-founder of Centivax, and Mukti Khaire, faculty director of the Johnson Cornell Tech MBA program. Don't miss this enlightening discussion on proven approaches to entrepreneurship and common pitfalls to avoid.
This workshop is the first in a virtual series presented in partnership with the Center for Regional Economic Advancement, a division of the Office of the Vice President for Research and Innovation. The series welcomes faculty, post-docs, graduate, and undergraduate students to explore the potential of launching a business grounded in their research and vision. Entrepreneurs are not required to attend every workshop, but the series is designed to explore the entrepreneurial journey from ideation to operation.
Upcoming workshops include:
Launching Your Startup – Wednesday, September 20 at 11:45 a.m. ET
Protecting Your IP – Wednesday, October 4 at 11:45 a.m. ET
Attracting Investment – Wednesday, November 8 at 11:45 a.m. ET
Choosing an Accelerator or Incubator – Wednesday, November 29 at 11:45 a.m. ET
Related Events