Leadership Insights & Making Tough Decisions
September 10, 2021 @ 12:00 am
Join the Student Leadership Educators Network (SLEN) for a panel of Cornell deans as they discuss and share compelling stories and insights about making tough decisions as leaders.
Leadership Insights and Making Tough Decisions
Three of our distinguished campus leaders will hold an informal fireside chat about their personal leadership insights, lessons learned, and instances where they have had to make tough decisions, taking into account the risk involved. Bring your questions!
Lynden Archer– Joseph Silbert Dean of Engineering
Ray Jayawardhana– Harold Tanner Dean of the College of Arts and Sciences and Professor of Astronomy
Kate Walsh– Dean and E. M. Statler Professor, School of Hotel Administration , S.C. Johnson College of Business
With opening remarks by Robert Gravani, Professor in the Department of Food Science and Director of the National Good Agricultural Practices Program.
This session has been organized by members of the Advisory Committee of the Cornell Student Leaders Education Network (SLEN): Donna Haeger, Professor of Practice,  Director – Dyson Leadership Development Program,The Charles H. Dyson School of Applied Economics and Management, Cornell SC Johnson College of Business College of Agriculture and Life Sciences; and Susi Varvayanis, Executive Director of Cornell Graduate School's Careers Beyond Academia.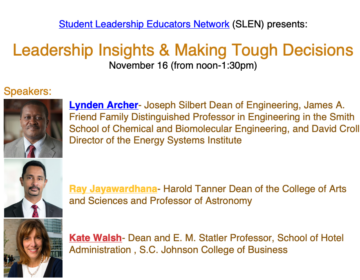 Join Zoom Meeting
https://cornell.zoom.us/j/5211526030?pwd=cndORGJNK0xYOElyaEwyOEZqNkxBQT09
Meeting ID: 521 152 6030
Passcode: 6YtrrJ
***********
About SLEN:
The Student Leadership Educators Network (SLEN) is a campus-wide group of faculty and staff dedicated to the promotion of student leadership development at the university. At monthly meetings, the group shares emerging developments and best practices, dialogues across curricular and co-curricular dimensions of leadership development such as foundational leadership competencies, and collaborates on projects and events. The current iteration of SLEN builds upon a rich history of professional staff and faculty convening to discuss and collaboratively develop experiential learning to promote leadership.
SLEN Fall 2020 Convenings
Thursday, September 24, 2020 from 9:00-10:30am
Leadership in Uncertain Times with General Casey Moore and Dean Vijay Pendakur
Monday, October 19 from 2:00-3:30pm
Talking About Race: Uncomfortable And Necessary Conversations with Cal Walker and Dr. Nia Nunn
Monday, November 16 from 12-1:30pm
Leadership Insights & Making Tough Decisions with Deans Archer, Jayawardhana, and Walsh
Related Events