Careers in…Museums, Non-Profits, Libraries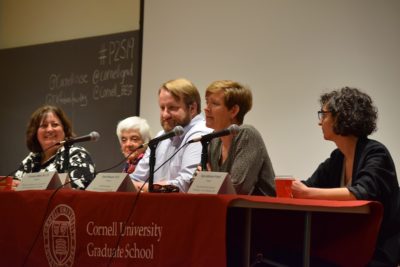 We'd like to share some tips and takeaways from these panelists on careers in museums, non-profits, and libraries at the Pathways to Success Symposium.
Moderator: Denise DiRienzo, Ed.D. – Experiential Program Director, Careers Beyond Academia/BEST
Panelists:
Anke Wessels, Ph.D. –  Executive Director of Center for Transformative Action
Christian Miller, Ph.D. – Research Librarian at Catherwood Library, Cornell University
Susanne Bruyere, Ph.D. – Director, K. Lisa Yang and Hock E. Tan Institute on Employment and Disability; Professor of Disability Studies, Yang-Tan Institute on Employment and Disability, Cornell University
Kate Addleman-Frankel, – Gary and Ellen Davis Curator of Photography; Herbert F. Johnson Museum of Art, Cornell University
You need to find things/areas you are passionate about/in and listen to your heart. Sometimes desperation can help you identify your passions. Be open to the unexpected expressions of your profession.
You have more skills than you thought you do. Connect with your community and seek community based and experiential learning opportunities, and build your networks.
Remember that you cannot solve all problems. Failures and disappointments can teach you something that will help you in your next task. Barriers and obstacles sometimes can refine your skills.
You are the expert in your field but also go interdisciplinary.
When it comes to considering career opportunities outside of academia, you need to let go the expectations of staying in academia that you have or others have for yourself.
If you want to go into certain fields, talk to the people from that field and immerse yourself in it and learn to speak their language.
Successful careers are a combination of finding your passion, acquiring the tools and serendipity.
See other tips on careers leveraging communication skills and why you should communicate your research to all audiences.